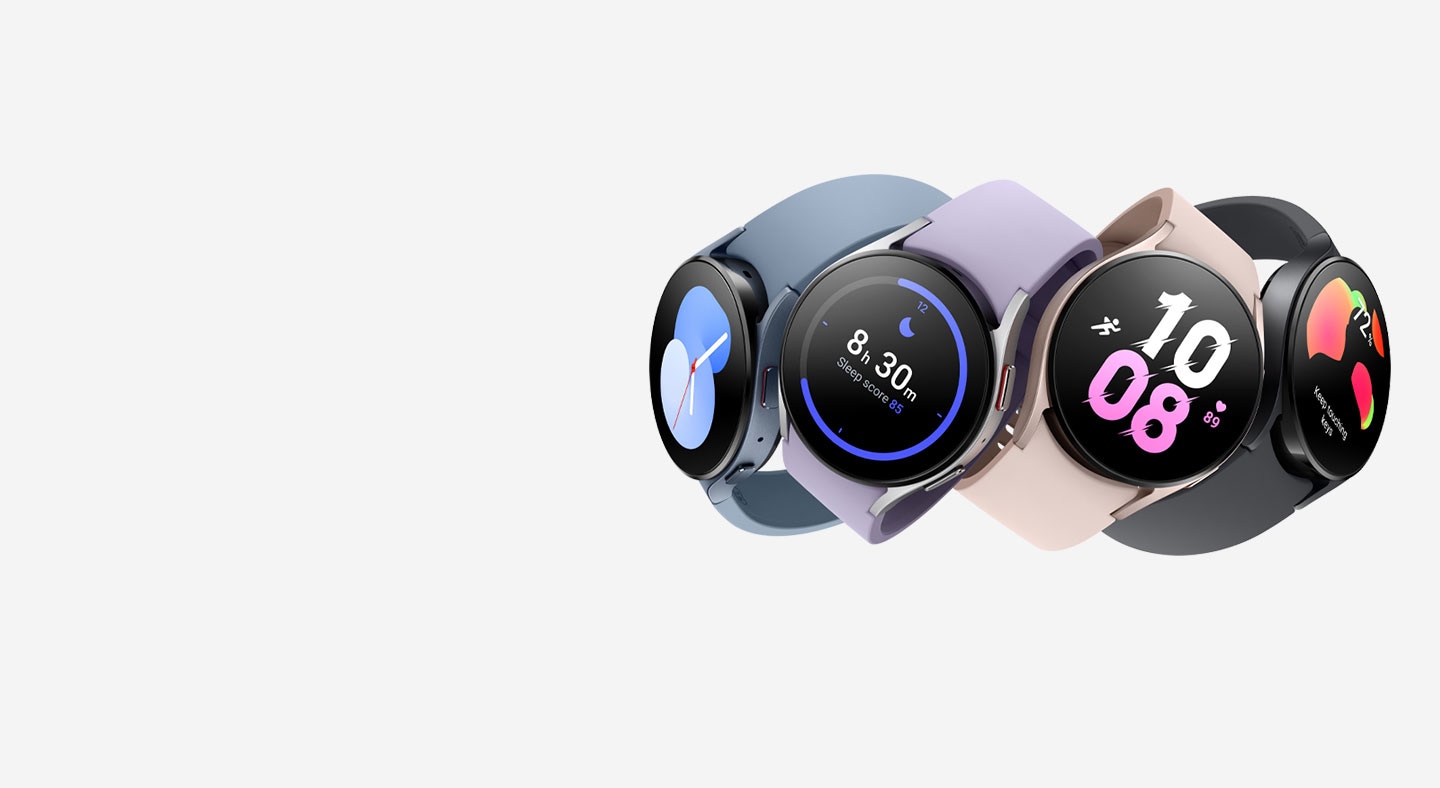 Four Galaxy Watch5 devices are stacked on top of each other in four different colors and different interactive interfaces (Graphite showing body composition feature on the watch face, Pink Gold showing time as '10:08', Silver showing sleep score and time as '8h 30m', and Sapphire showing time as blue and white gradient '5'). Each watch has a different color watch band, from Composite Gray to Iconic Gold to Lavender to New Blue. Sleep tracking
Health and wellness monitoring
13% bigger battery for everyday usage 1
The smartwatch for everyday wellness goals
HEALTH MONITORING
Check your health
around the clock
Even at night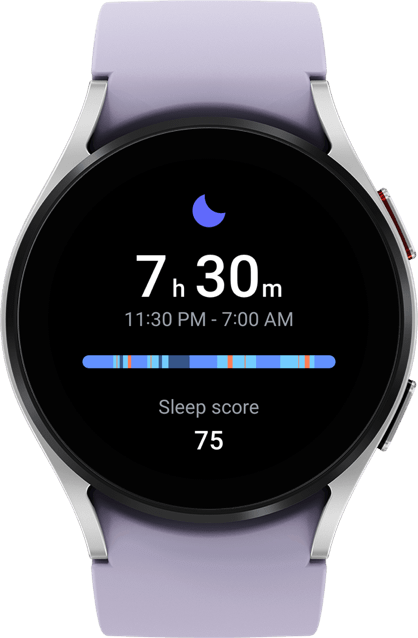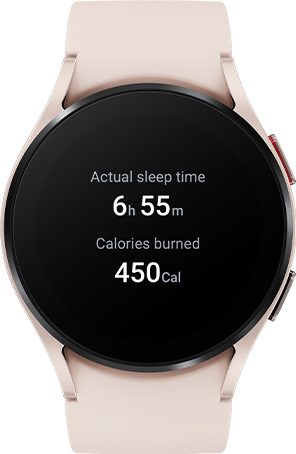 On the left is a Sapphire Galaxy Watch5 showing a sleep dashboard indicating the stages of sleep. In the middle is a Silver Galaxy Watch5 showing the sleep time and sleep score. On the right is a Pink Gold Galaxy Watch5 showing the sleep time and calories burned. SLEEP TRACKING
Counts your sheep for you
Know your sleep with our improved sleep tracking technology. Plan your bedtime, detect snoring, understand and track your sleep stages (awake, light, deep, REM) via 8 animal sleep symbols representing your sleep type. Better nights lead to better days. 2, 3, 4, 5
BIOACTIVE SENSOR
Watch your
heart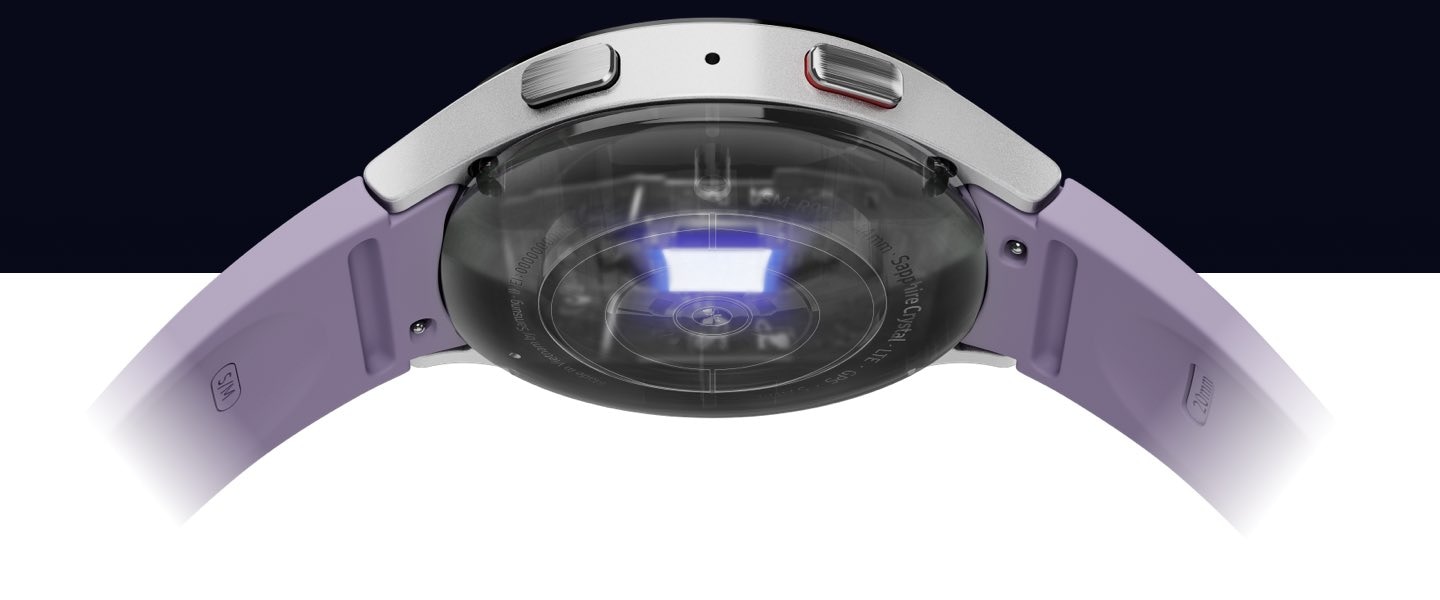 Samsung BioActive sensor
The powerful 3-in-1 Samsung BioActive sensor controls three health sensors effectively: Bioelectrical Impedance Analysis sensor, Electrical Heart sensor (ECG), and Optical Heart Rate sensor. 6
FITNESS TRACKING
Every step counts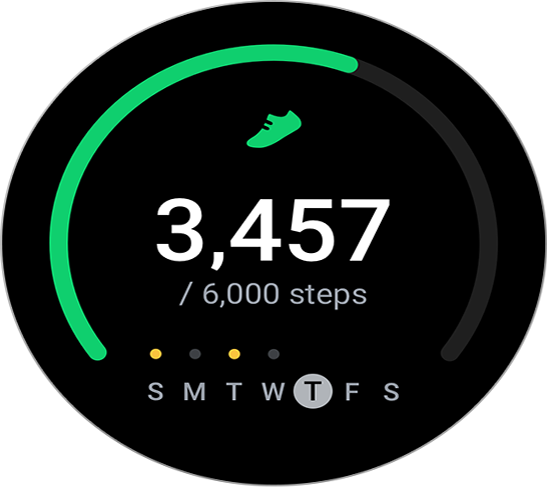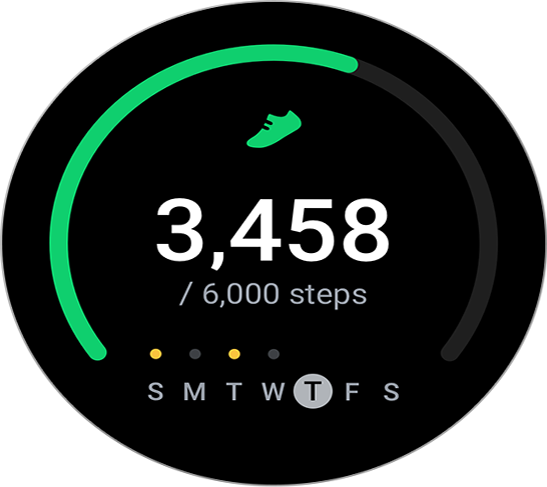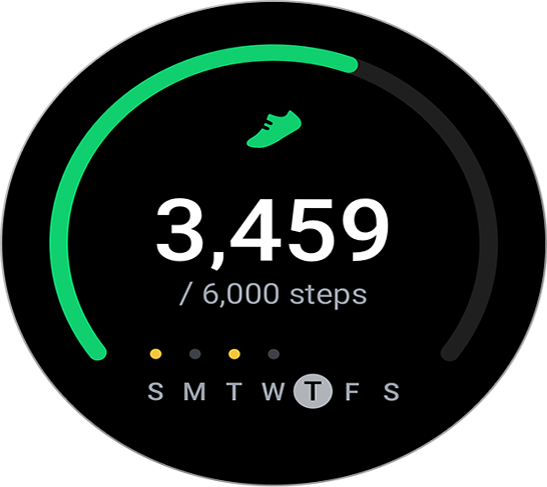 A Silver-bodied Galaxy Watch5 displaying counted steps in big white numbers '3,456 / 6000 steps', and the days of the week with Thursday highlighted.
Working out? Your watch counts your steps, calories, and even your routines. It even supports over 90 exercises that you can track from your watch.
PERFORMANCE
Time to do it all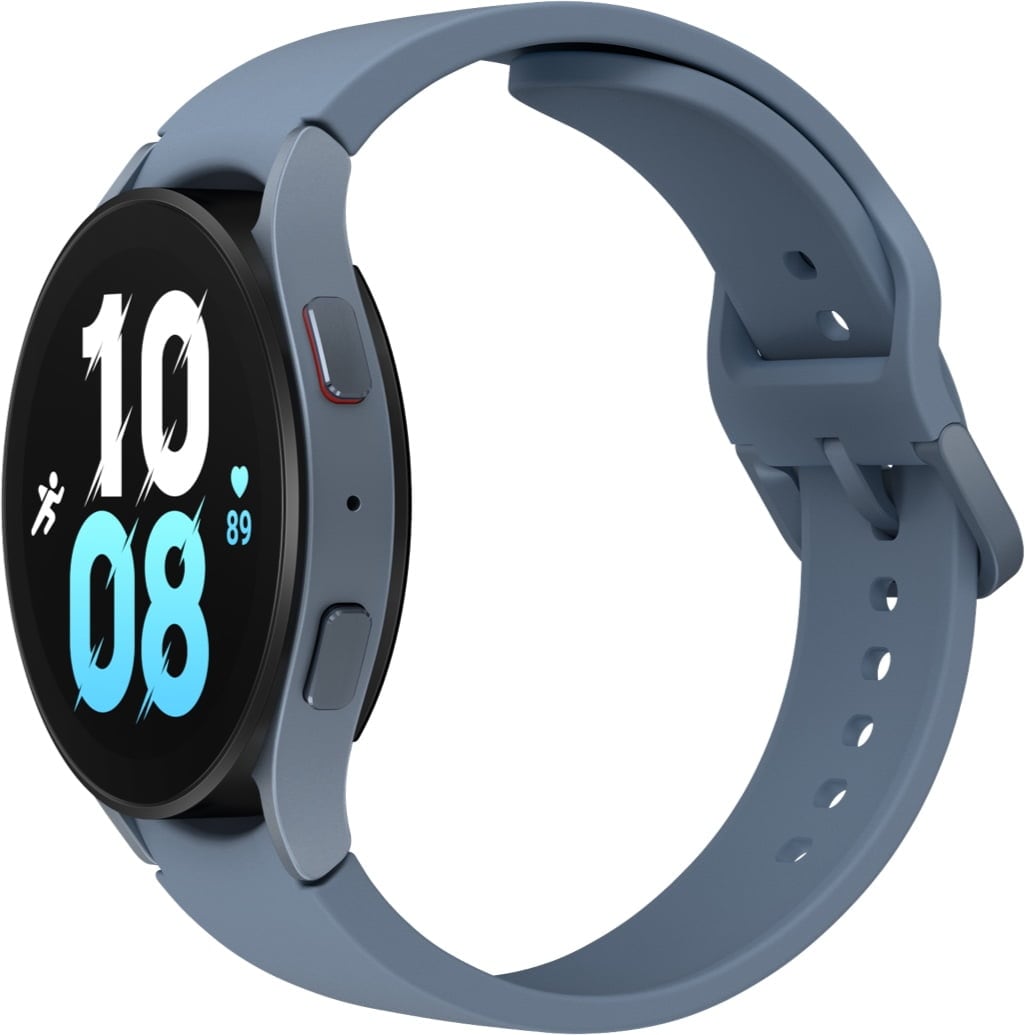 BATTERY
Back on your wrist in no time
Up to 45% charged in 30 min
It takes about 30 minutes to go from 0% up to 45% charge. Yes, you read that right. With a bigger battery than its predecessors and fast charging, you're ready to go in no time. 16, 17
DURABILITY
Meet the Sapphire
crystal display
Introducing our durable, water-resistant18 Galaxy Watch. Our watch is crafted with premium Sapphire crystal that's 1.6 times harder. 19, 20 Just about anything your day dishes out.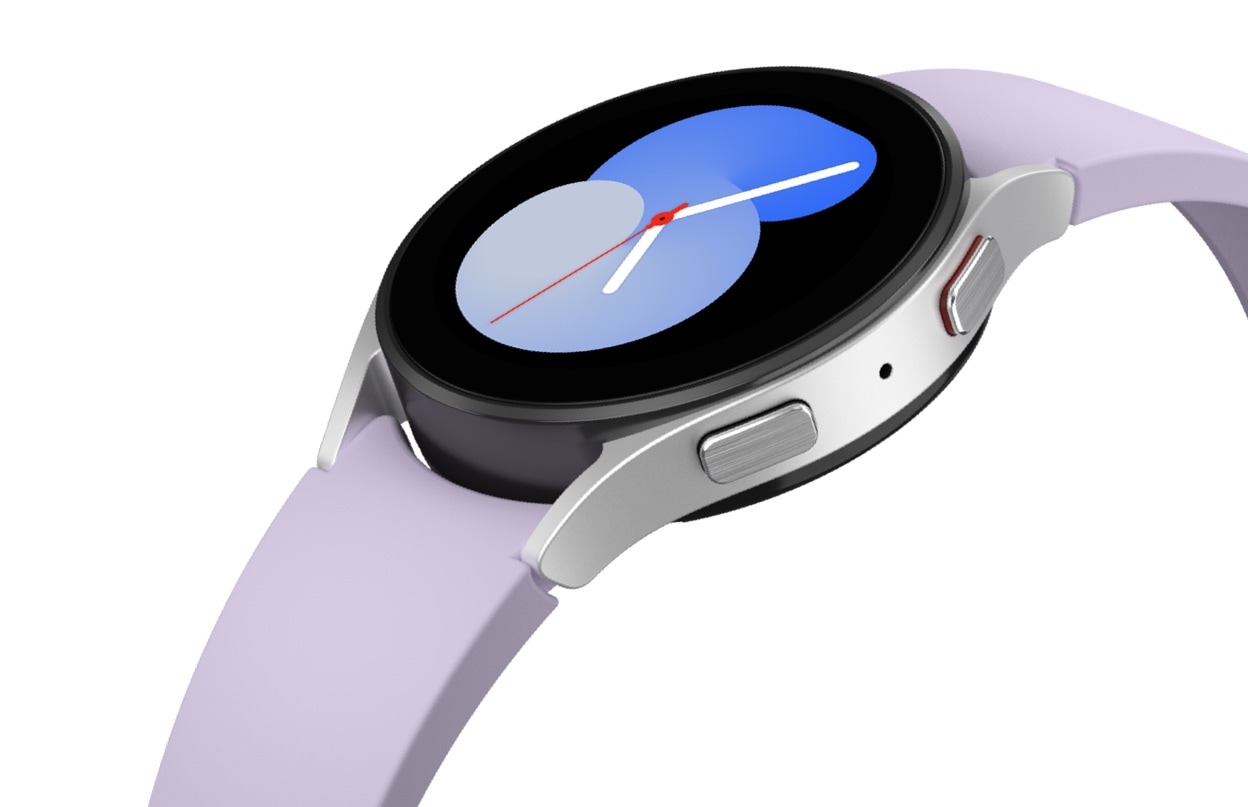 WEAR OS
Watch what you can do
Navigate your next adventure with Google Maps, stream YouTube Videos, text, get help from Bixby or Google Assistant, and call or browse the web. Those things you do on your phone? You can do them on Galaxy Watch5. Plus, with Smart Switch, keeping data from your previous Galaxy Watch is also a breeze. Did we mention it also tells time? 21, 22, 23, 24, 25, 26 27
SMART SWITCH
New watch. Same data
Keep the data from your previous Galaxy Watch4 series. , 29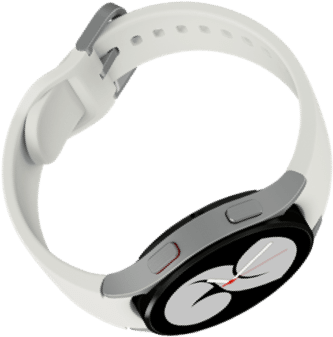 Two Galaxy Watches facing each other. At the top is Silver Galaxy Watch4 with a white band and a gray '2' time display. The bottom Pink Gold Galaxy Watch5 with a pink band and an orange and pink gradient '5' time display. Between the two watches is the Smart Switch logo.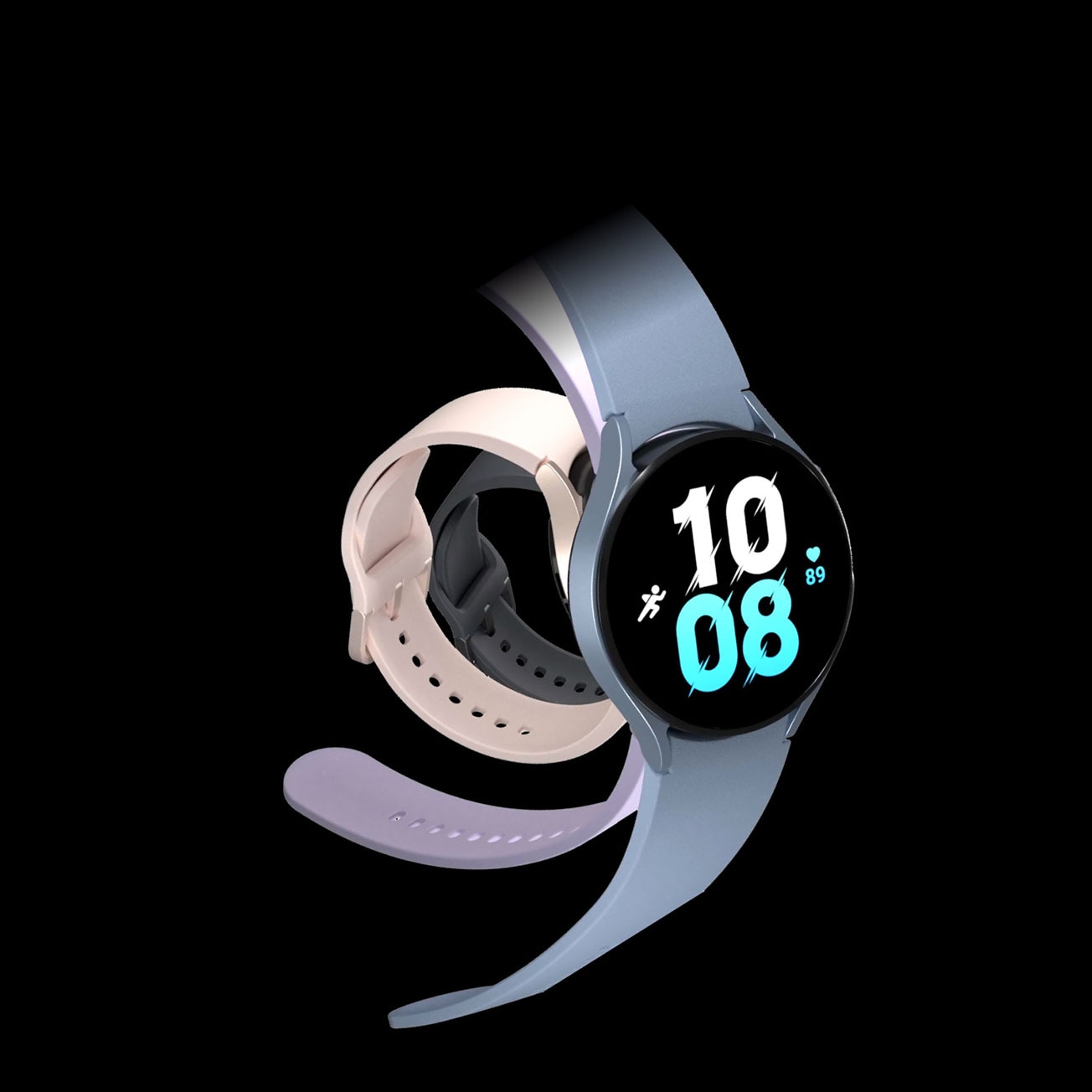 A Sapphire Galaxy Watch5 is displayed with a wide-open band. The watch face shows one of the designs that display the time as '10:08'. Behind the watch, there is an array of bands from Lavender, Iconic Gold, to Composite Gray.
WATCH FACES
Face the day
your way
Analog to digital, vintage to modern, select a watch face to help you face the day. Pick from the classic set or from the various watch faces.
Flower garden fall watch face displayed on the Galaxy Watch5.
BANDS
Band together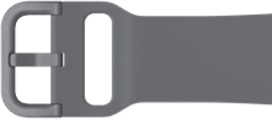 Five watch bands are flat and laid out horizontally in various colors from black rugged sports band to navy two-tone sport band to composite gray sport band to sand gray two-tone sport band to brick red two-tone sport band.
Choose a band that fits with all your fits. Or get a bunch to mix and match with whatever outfit you're wearing. Versatility is everything. 30, 31
COLOURS
Make it your own
Available in breathtaking colors specially designed to complete your look. Choose from Graphite, Sapphire, Silver for Galaxy Watch5 Large — or Graphite, Pink Gold, Silver for Galaxy Watch5 Small. 31, 32
COMPARE
It's time to find
your watch
Galaxy Watch5
Galaxy Watch5 Pro

Galaxy Watch4
Compared to Galaxy Watch4 battery capacity.

Requires Samsung Health application version 6.22.1 or later.

The Galaxy Watch5 must be paired with a Samsung Galaxy phone with Android 8.0 and minimum 1.5GB RAM.

Intended for general wellness and fitness purposes only. Not intended for use in detection, diagnosis, treatment of any medical condition or sleep disorder. The measurements are for your personal reference only. Please consult a medical professional for advice.

To activate snore detection, users must turn on feature under settings using the Samsung Health application.

Due to country restrictions in obtaining approval/registration as a medical device for certain services, those sensor(s) and their relevant service(s) may not be available for use. Check out www.samsung.com/apps/samsung-health-monitor for latest update on service countries.

DO NOT measure your body composition if you have an implanted pacemaker or other implanted medical devices.

DO NOT measure your body composition if you are pregnant.

Measurement results may not be accurate if you are under 20 years old.

Body composition is supported in Samsung Galaxy Watch4 series and later released Galaxy Watch models only.

Intended for general wellness and fitness purposes only. Not intended for use in detection, diagnosis, treatment, monitoring or management of any medical condition or disease. Any health-related information accessed through the device and/or application should not be treated as medical advice. Users should seek any medical advice from a physician.

For accurate BP readings, a calibration is required every 4 weeks by BP monitor & arm cuff. Requires a Galaxy smartphone running Android 7.0 or above.

BP availability may vary by country or region. Due to country restrictions in obtaining approval/registration as a medical device, BP only works on watches and smartphones purchased in the countries where service is currently available (however, service may be restricted when users travel to non-service countries). Check out www.samsung.com/apps/samsung-health-monitor for more information and latest update on service countries.

Testing conducted by Samsung in June 2022 using pre-released version of Galaxy Watch 5 (BT & LTE), each paired to a Samsung phone; all devices tested with prerelease software, Galaxy Watch Magnetic Fast Charging USB C Cable (EP-OR900), and Samsung 25W USB C Power Adapter (EP-TA800). Charge time varies with region, settings, usage pattern and environmental factors; actual results may vary.

Samsung 25W USB C Power Adapter (EP-TA800) is sold separately.

Galaxy Watch5 has a water resistance rating of 50 meters under the ISO standard 22810:2010. It is not suitable for diving or high-pressure water activities. If the device or your hands are wet, they must be dried thoroughly prior to handling.

When compared to Galaxy Watch4.

Based on Vickers hardness measured with constant load of 200gf.

Google Assistant for watch is a downloadable app. Default voice assistant is Bixby.

Available applications may vary by country or region.

Supported features may vary between platforms and countries with compatibility subject to change.

Requires an internet connection.

Check out www.samsung.com/bixby for the latest update on Bixby service countries.

Bluetooth, Wi-Fi or LTE connection is required.

Third party apps must be downloaded separately.

Compatible with Galaxy Watch in Wear OS powered by Samsung. Requires pairing with smartphone with latest version of Smart Switch installed.

Data and content available for transfer may vary by OS.

Availability may vary by country or region.

Bands are sold separately.

Availability of colors, sizes, models, and bands may vary by country or region.

Available on samsung.com in select countries. The number of combinations available may vary depending on the country or region in which the Galaxy Watch5 Bespoke Studio is available.

The typical capacity has been tested under third party laboratory conditions. The typical capacity is the estimated average capacity considering the deviation in battery capacity among the battery samples tested under the IEC 61960-3 standard. Rated capacity is 398mAh for Large and 276mAh for small. Actual battery life may vary depending on network environment, usage patterns and other factors.