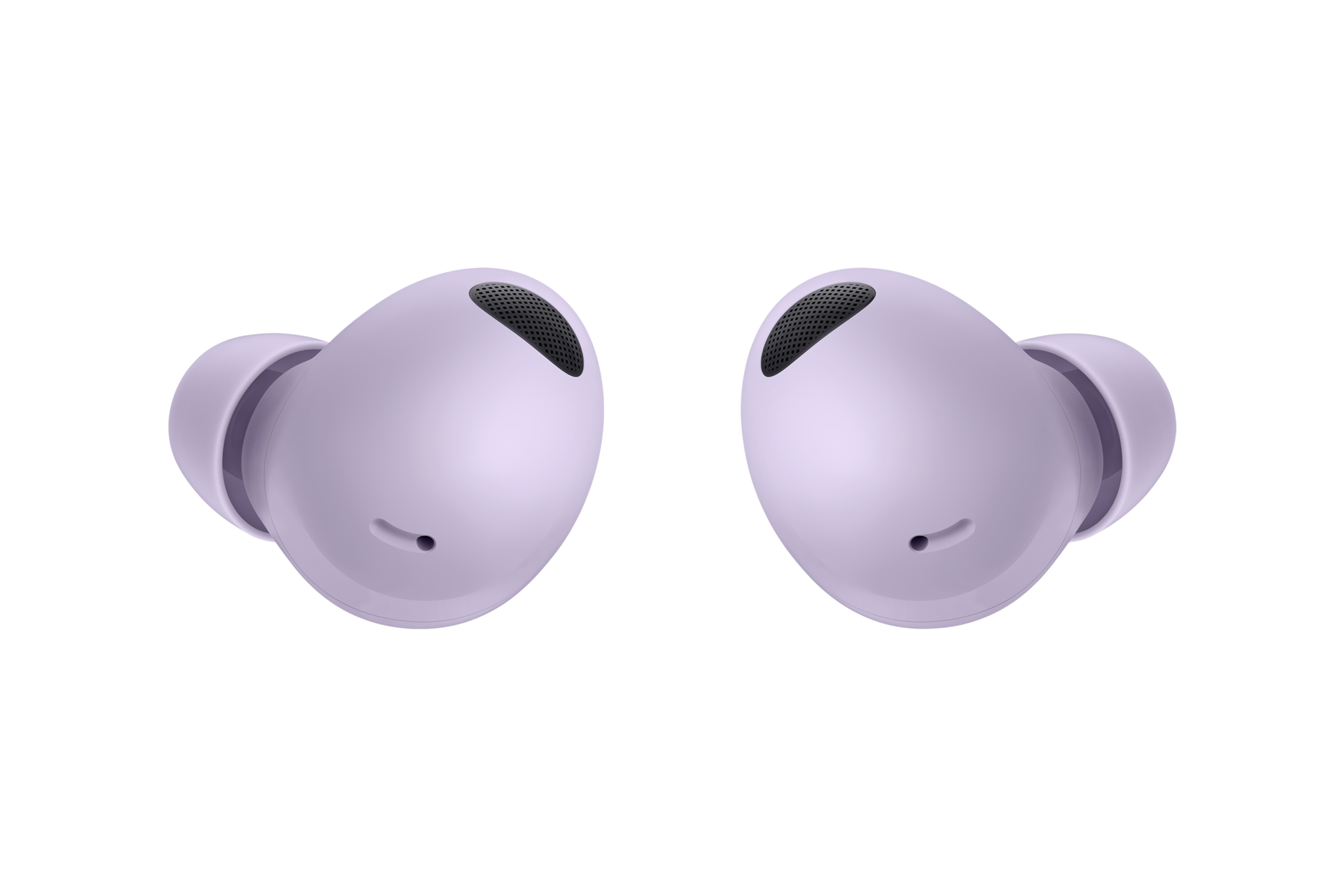 24bit Hi-Fi sound for quality listening experience.

ANC with 3 high SNR microphones eliminate more exterior noise.

Ergonomic design for comfort fit.

360 audio surrounds you like you're there.
key features

Ultimate Hi-Fi sound in your ear
Seamless connectivity
Comfortable fit
The ultimate Hi-Fi sound is now wireless
SOUND EXPERIENCE
The clear choice for quality sound
24-BIT Hi-Fi AUDIO
Hear sound
as it was intended,
wirelessly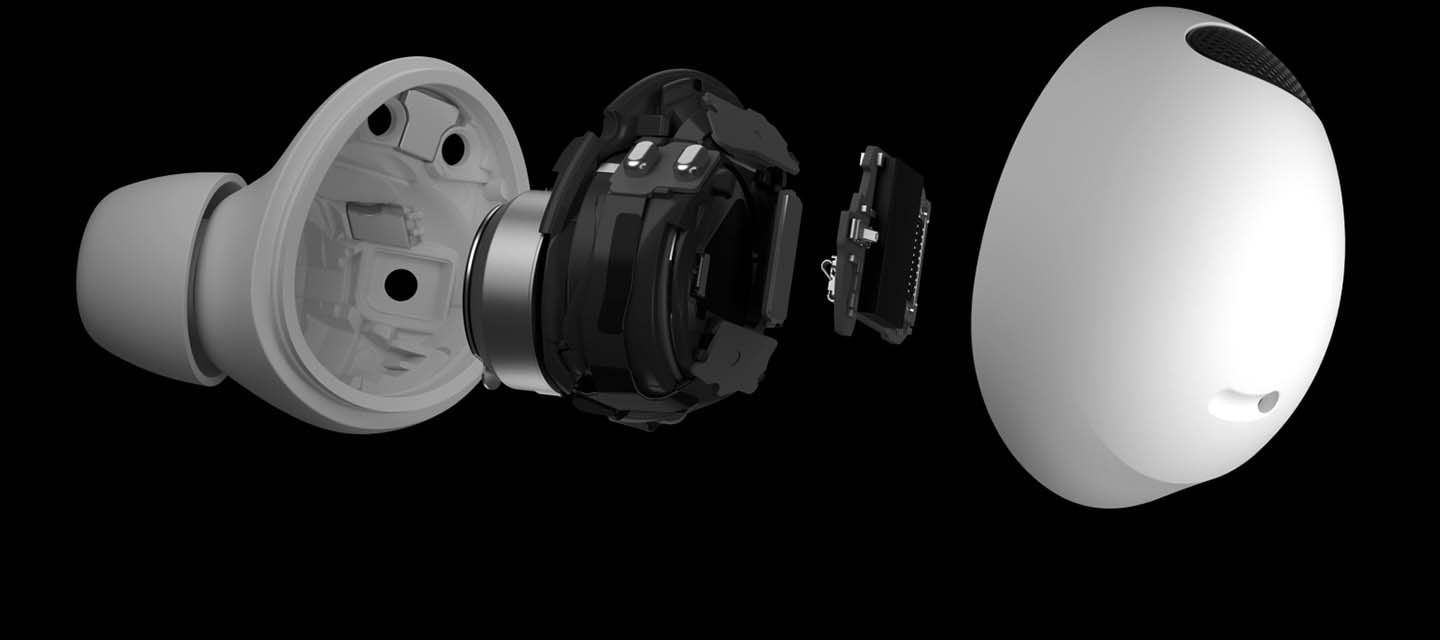 2-way speakers
for wide frequency response Woofer
delivers deeper bass Tweeter
produces crisp treble
24-bit
Hi-Fi audio
16-bit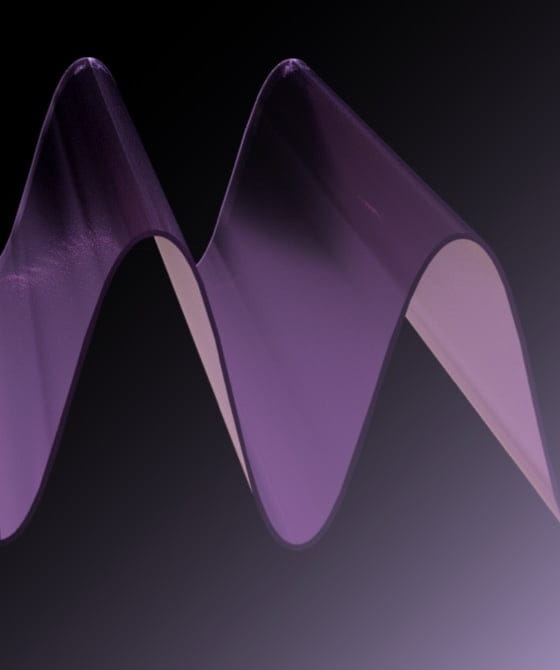 24-bit
Every note sounds like the real thing because clear audio starts at the source with your favorite Samsung Galaxy device. The updated Samsung Seamless Codec encodes the full 24-bit audio to decode on the Galaxy Buds2 Pro, maintaining that same 24-bit high-quality sound. 1, 2
INTELLIGENT ANC
Puts your playlist in focus
Active Noise Canceling (ANC) is better than ever. With 3 high SNR (Signal-to-Noise Ratio) microphones, the Galaxy Buds2 Pro tracks and eliminates more outside sound — even soft sounds like wind. 3
Switching to in-person conversations is easy with Voice Detect.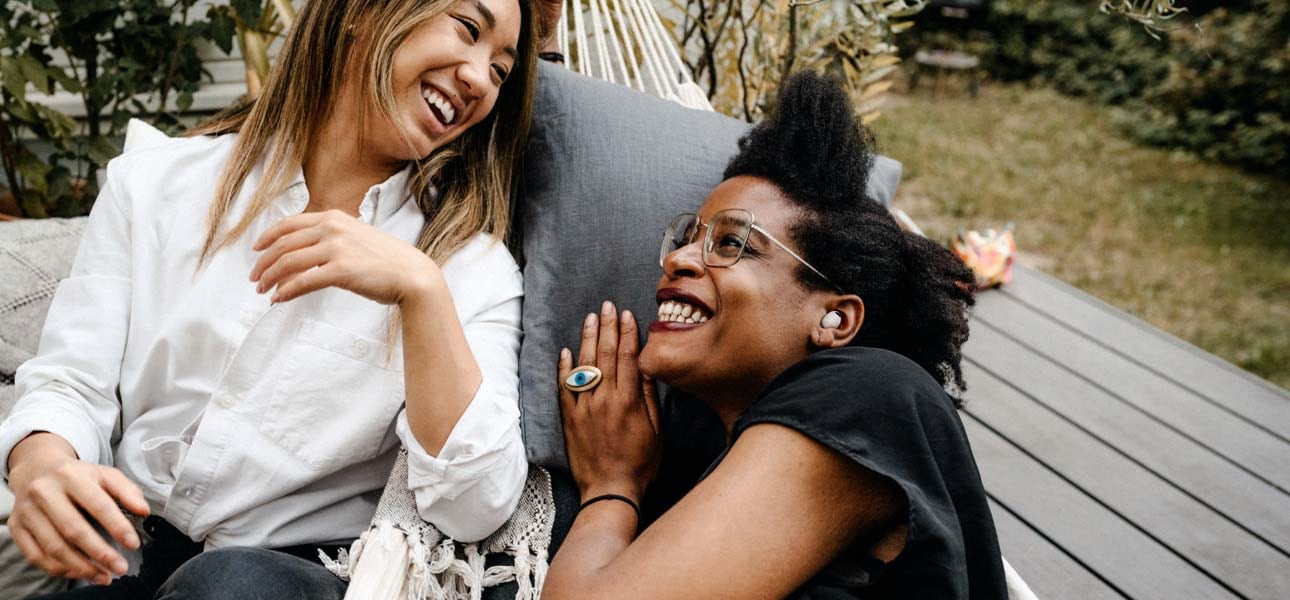 Simply start talking and Voice Detect will turn off ANC and activate Ambient sound — allowing you to clearly hear the conversation without removing your Galaxy Buds2 Pro. 3
360 AUDIO
Hear it like
you're there

With Intelligent 360 Audio, the sound feels more realistic. The 360 Audio with Direct Multi-channel (5.1ch / 7.1ch / Dolby Atmos®) and enhanced head tracking make every movement stay in sync — creating an immersive experience. 360 Audio can even pinpoint the direction of the sound as you move your head, giving you the spatial experience. 4, 5
SEAMLESS CONNECTIVITY
Your life in sync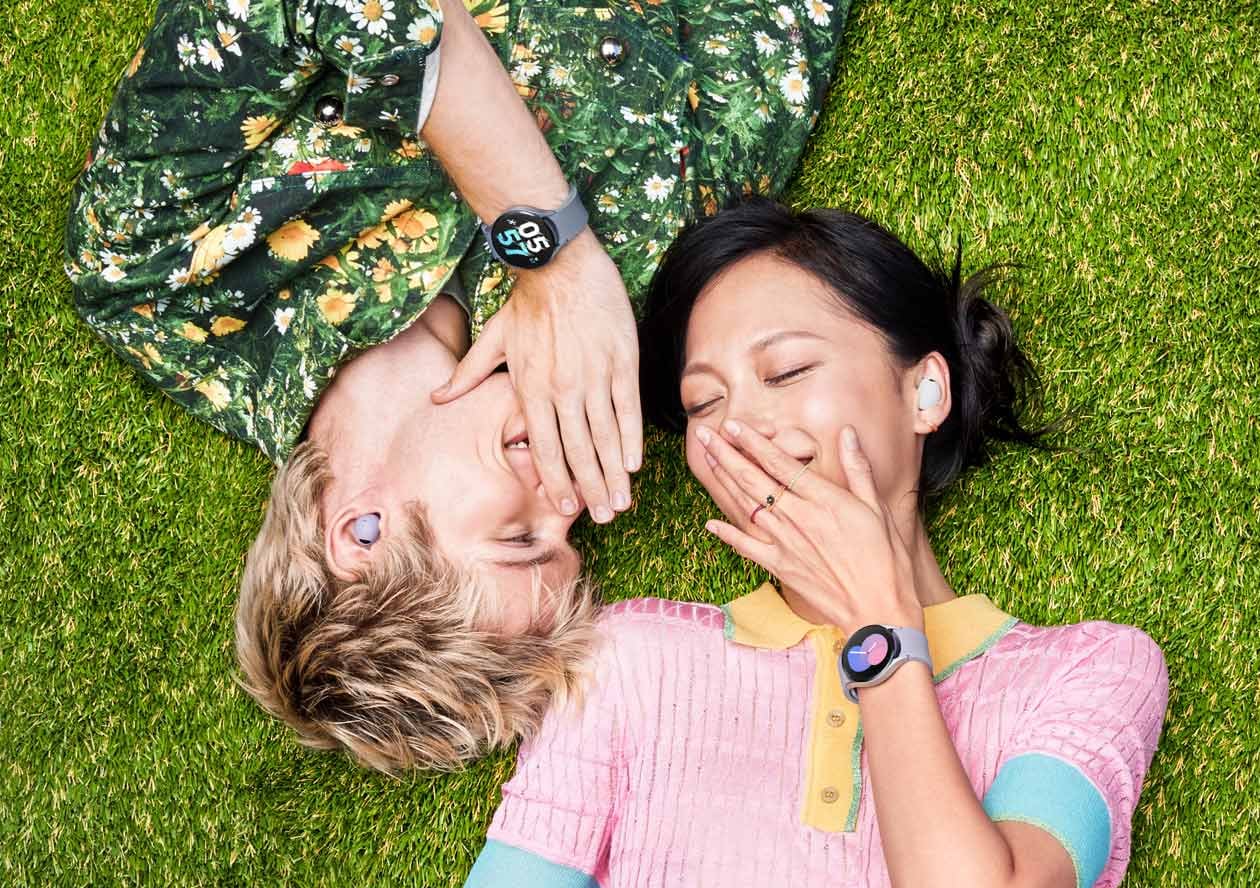 EASY PAIRING
Pop open and tap in
Galaxy Buds2 Pro will automatically pop up on your Samsung Galaxy devices and are ready to connect with a tap. As simple as that.
*Requires Samsung Galaxy devices with Android 10 and above or SmartThings application over 1.7.85 version
Auto Switch on Samsung Galaxy Buds2 Pro intelligently detects mobile activity and seamlessly shifts its connection to your Samsung Galaxy phone, tablet and watch.
Switching to answer the phone works even when you're connected to a Samsung TV. Once the Galaxy Buds2 Pro are connected to the Samsung TV via Bluetooth, there is no need to take the earbuds out to answer the phone. Incoming calls can be answered simply by tapping the Galaxy Buds2 Pro twice. 6
*Autoswitch with TV only works when using call.
SMARTTHINGS FIND
Keep track
of your buds
Worried about losing your Galaxy Buds2 Pro? Don't. With SmartThings Find you can trace your coveted Galaxy Buds2 Pro with the location detection feature. You can even do it with or without the case.. 7, 8, 9, 10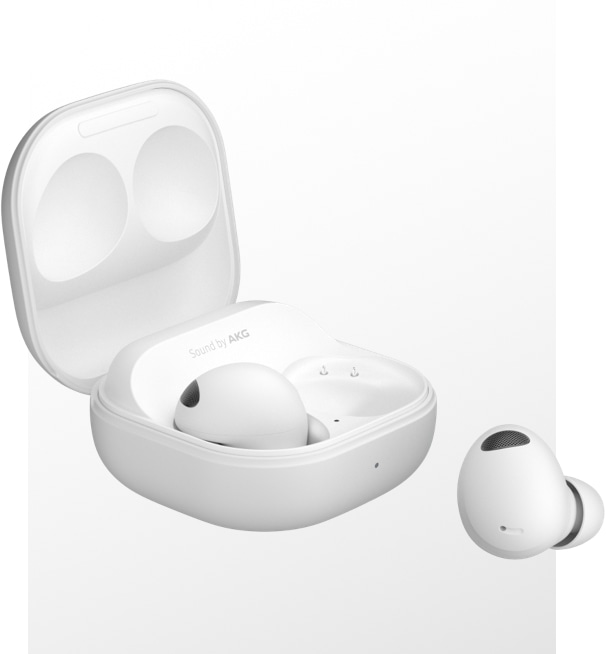 Walk away from your Galaxy Buds2 Pro and the integrated alarm is ready to let you know — your phone will send you a notification so that you don't accidentally leave them behind. 10
ERGONOMIC DESIGN
Style in tune with you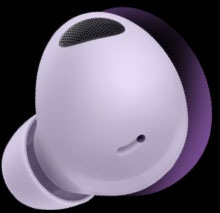 We redesigned the earbuds to be 15% smaller than the Galaxy Buds Pro to fit snugly in your ear.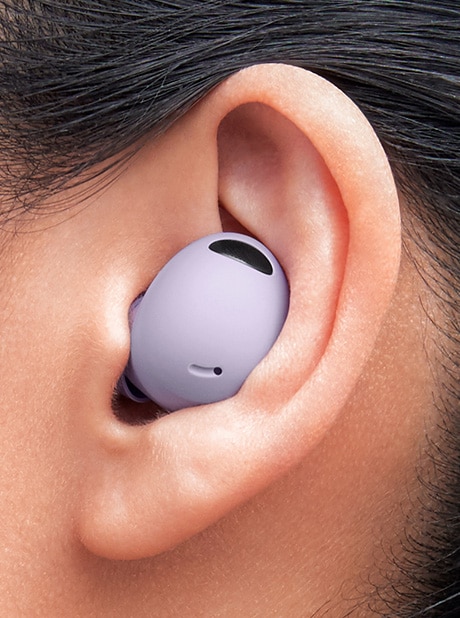 Enjoy a comfortable fit, thanks to the ergonomically designed earbuds. Enhanced wind flow technology helps reduce ear canal pressure and minimizes noise — for comfort and clarity. 11
COLOURS
Colours that
set the tone
Both the earbuds and cradle are available in a range of premium colours. Each bud is polished to a high gloss with a matte interior that feels soft against your skin. 12
Galaxy Buds2 Pro case and earbuds in Bora Purple.
GALAXY EXCELLENCE
Plays all the hits
Two Bora Purple Galaxy Buds2 Pro earbuds are floating in the middle of the screen.
Get up to 5 hrs of continuous playtime with ANC on and up to 18 hrs in the cradle. 13, 14, 15

Bluetooth 5.3 is available and LE Audio will be eventually supported. 16

Play on. Rain or shine. Galaxy Buds2 Pro is water resistant17,18
Samsung Galaxy device with One UI version 4.0 or higher is required.

24-bit audio support may vary depending on the application.

Requires Voice Detect function to be turned on under settings on the Galaxy Wearable application.

Available only on Samsung Galaxy smartphones and tablets with Android One UI version 3.1 or later. 360 Audio and head tracking support may vary depending on the application and content.

Enhanced head tracking and Direct Multi-channel is supported with Android One UI version 4.1.1 or later.

Auto Switch feature only available on Samsung Galaxy smartphones and tablets with One UI 3.1 or later and Galaxy Watch4 series or later. Samsung Galaxy devices must be logged in to Samsung Account to enable Auto Switch feature. Auto Switch feature for Samsung TV is only available on Samsung TVs launched Feb '22 or later after getting a firmware update from Jul '22. Autoswitch with TV is only available for making and receiving phone calls.

When the battery runs out, it tracks based on the last connected location.

The SmartThings Find application is only available on Samsung Galaxy devices with Android 8 or later.

SmartThing Find is not supported in China.

To receive notification from SmartThings Find, you must turn on the notification under settings.

15% size reduction is compared to the Galaxy Buds Pro based on size volume. Ear tips size can be adjusted to increase comfort.

Available colours may vary by country, region, or carrier.

Earbuds provide up to 5hrs of play time with ANC on, while the case provides up to 18 hours of battery life when the case and earbuds are charged to 100%. Based on internal testing. Audio playback time tested by pairing a pre-production Galaxy Buds2 Pro to a recently released Galaxy smartphone with default settings including ANC on. Actual battery life may vary and depend on usage conditions, settings, number of times charged, Bluetooth signal strength, and other factors.




*'Default setting' refers to the original setting for the Galaxy Buds2 Pro when it was first released, simply with the power turned on.




*'Play time' refers to when the Galaxy Buds2 Pro are connected to the phone, streaming music.

Play time may vary based on settings.

The typical capacity has been tested under third party laboratory conditions. The typical capacity is the estimated average capacity considering the deviation in battery capacity among the battery samples tested under the IEC 61960-3 standard. The rated capacity is 58mAh (earbuds), 500mAh (charging case). Actual battery life may vary depending on the network environment, usage patterns, and other factors.

Some devices, especially those that are not tested or approved by the Bluetooth SIG, may be incompatible with the earbuds. LE audio will be available later this year.

IPX7 is based on laboratory test conditions for submersion in up to 1 meter of fresh water for up to 30 minutes.

Not advised for beach or pool use. Charging case is not water resistant. If the earbuds are damaged, they are not guaranteed to be water resistant. If the earbuds or your hands are wet, they must be dried thoroughly prior to handling or placing into the charging case. If placed into the charging case without drying, the earbuds may be damaged.