key features

Cook even larger dishes even faster
Triple Flame Burner
Cook food evenly and in an instant thanks to the Triple Flame burner. Its three concentric rings of flame produce scorching, multi-dimensional heat, so even large dishes heat up quickly and evenly.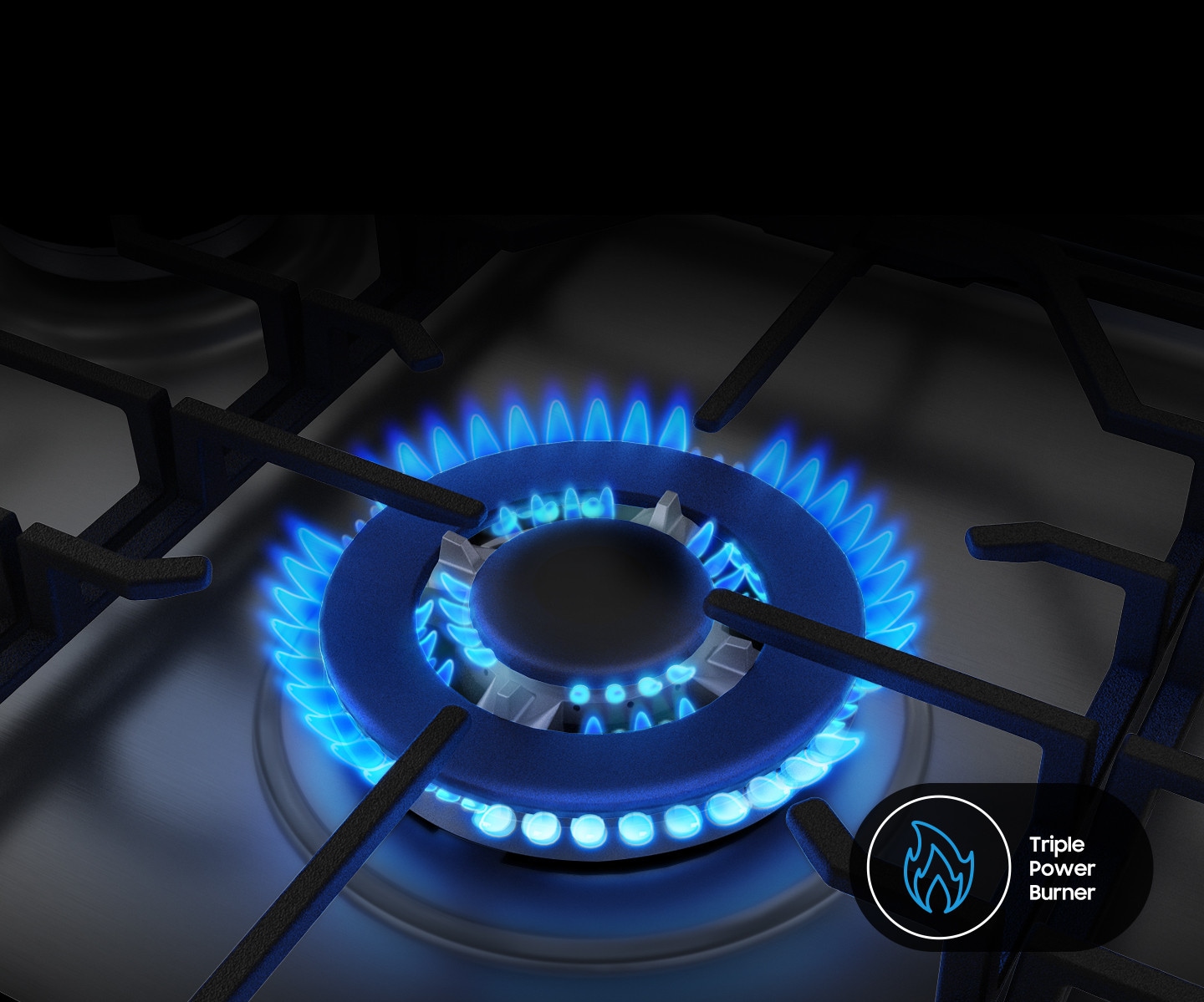 Faster and more energy efficient cooking
Fast Burner
Cook quickly and efficiently with a Rapid burner, which allows for faster cooking and easily adjustable temperature control. By simply turning the knobs, you can quickly go from a low temperature to a high temperature, cooking food with amazing speed and energy efficiency.
*Reference image. Triple Flame Burner (located in the middle of the cooking zone) is only available in the NX52T7322PS/PE model.
Cook more conveniently and safely
Large cooking zone
Enjoy the flexibility of cooking with different sized pots and pans at the same time. The design of the grills provide a larger cooking area, so you have a larger space for greater use and use a greater variety of cookware. Its thick cast iron grates provide greater stability, with less risk of pots and pans tipping over.
Cook a lot more in a larger oven
Large capacity of 146 liters
Enjoy more space to bake thanks to its huge capacity of 146 litres. You can prepare multiple dishes at different levels, such as vegetables, cakes or stews. You can also prepare large dishes, such as a large turkey for any occasion.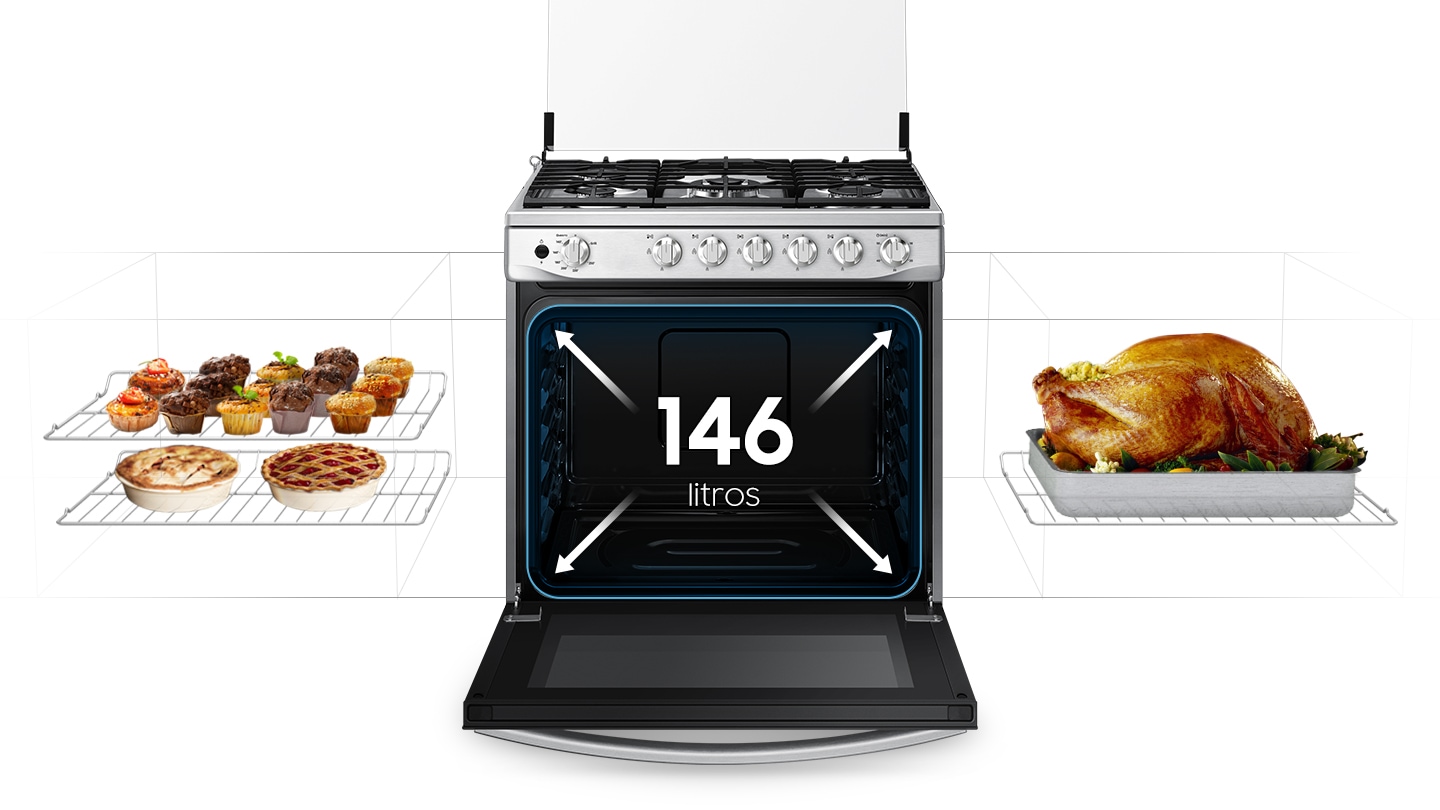 Fast gas leak detection and protection
Double security lock system
Cook without worrying about the risk of gas leaks. A double safety system has a 2-layer valve that prevents gas from accidentally leaking through the burners. Additionally, a thermocouple sensor quickly detects if the furnace flame is out and shuts off the gas supply valve.
Elegant and robust design
Give your home a sleek and enduring style with a modern design that blends harmoniously with your kitchen. Cast iron grates have an attractive hexagonal shape. The mirror-like finish on the door and flat handle create a sophisticated, minimalist look.
Long-lasting heat, even cooking
Cast iron griddle
Cook food evenly and safely with a heavy-duty cast iron griddle. It constantly generates and maintains heat for longer, making it ideal for grilling and frying multiple foods. Its excellent polishing and finish ensure resistance to scratches.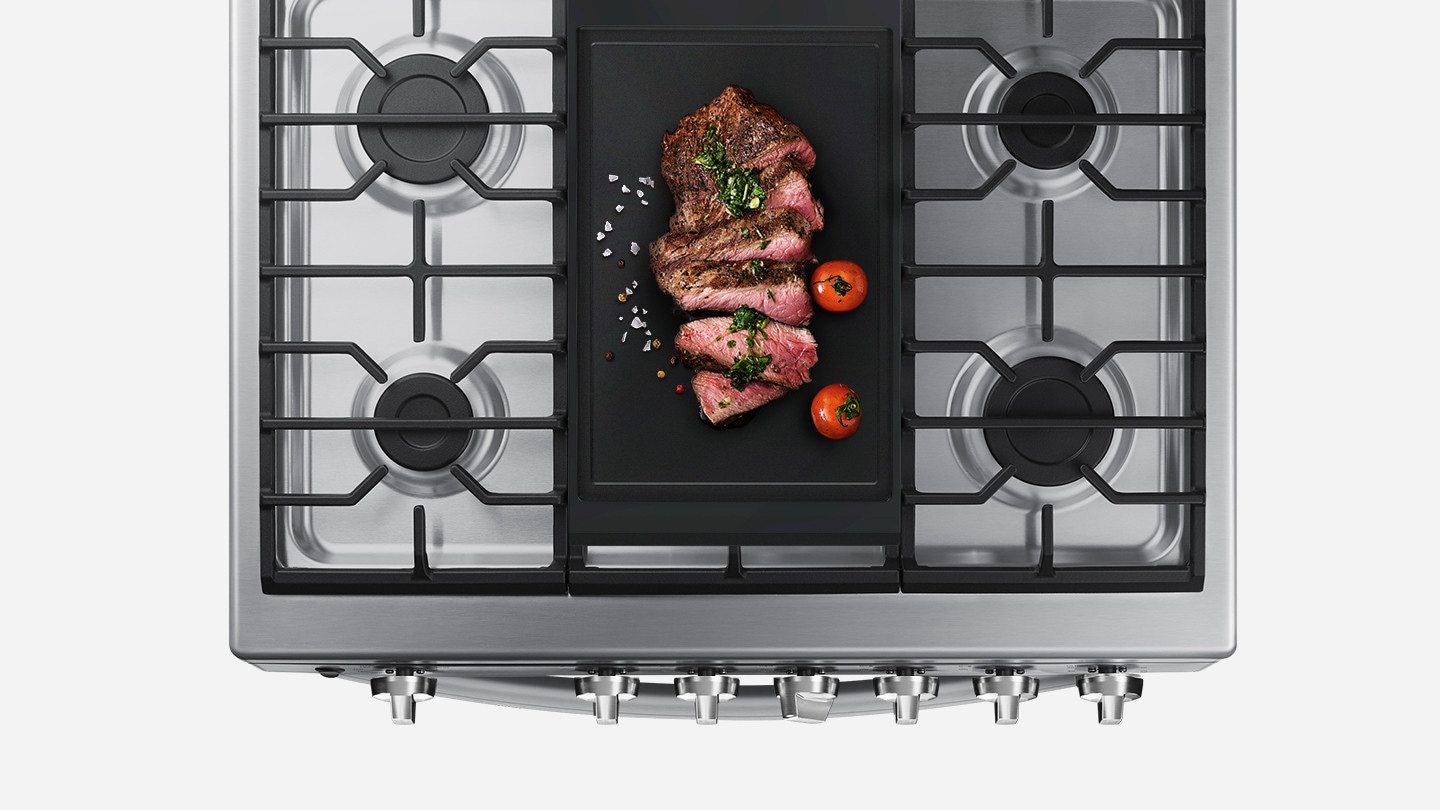 Crispy on the outside and juicy on the inside
Gas grill
Prepare a variety of tasty grilled dishes in less time. The gas grill helps to quickly preheat the oven, reducing overall cooking time. Plus, you can quickly and evenly cook deliciously browned foods, such as chicken or steak, that are deliciously crisp on the outside and juicy on the inside.
Prevents accidents due to tipping of the oven
Anti-tip technology
A counterweight on the back of the oven counteracts the weight of the open door and the self-sliding rack, supporting a weight of up to 30 kg. It reduces the risk of the oven tipping over, even if a child sits on it. the door, minimizing accidents.
Check and change dishes effortlessly
Automatic sliding rack
Put in and take out food much more easily and safely. When you open the oven door, the sliding rack slides smoothly and completely automatically, without having to be pulled. It means you can conveniently add or remove dishes, and baste, flip and season your food with less effort.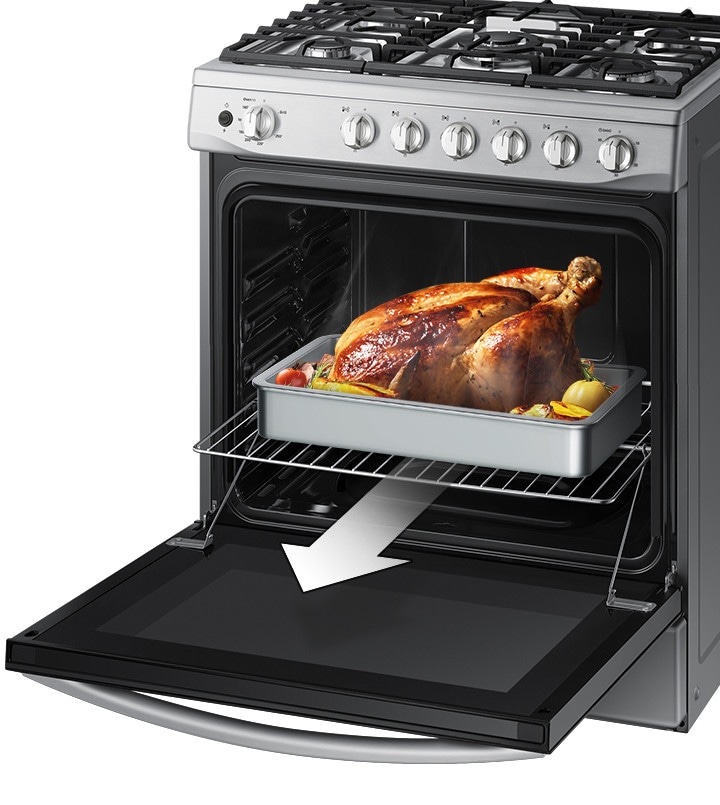 Easy-to-clean, scratch-resistant interior
Easy-clean
Now cleaning up after cooking is much easier. The enamel lining of the oven cavity can be easily and quickly cleaned without much effort. It is also very resistant to scratches and oxidation. And it won't discolor over time.
Specs
Installation Type: Freestanding

Cavity type:

Thermal

Capacity:

2.5 cu.ft (71.5 L)

Number of burners

4 EA
Capacity
Oven capacity:

2.5 cu.ft (71.5 L)
Materials/Finishes
Control type (Hobs and oven):

mechanical knob

Control Type (Cooktop):

Knob

Door type:

Black (tempered glass)
Features
Interior light (position):

25W×1

On/Off light (lamp):

Yes
Hob
Type:

GAS – LP (G30) / NG (G20)

Installation type:

STSS

Number of burners:

4 EA

Total power (burners):

LP 7.3 / NG 9.5 (kW)

Burner 1:

Right / Front (auxiliary – LP 1.0/NG 1.0) kW

Burner 2:

Left / Front (fast – LP 2.8 / NG 2.8) kW

Burner 3

Right / rear (semi-rapid – LP 1.75 / NG 1.75) kW

Burner 4

Left / rear (semi-rapid – LP 1.75 / NG 1.75) kW

Burner cap:

4 EA

Center Oval:

No

Sealed burner:

Yes

Rack

Cast iron, 2 pieces

Grating:

Cast iron, 2 pieces
Power
Weights/Dimensions
Product (Width × Height × Depth):

595 × 900 × 646mm

Gross (Width × Height × Depth):

660 × 950 × 705mm

Net weight:

43.8kg

Gross weight:

52.2kg
Accessories