Perfect integration into your kitchen
Its minimalist design allows it to blend perfectly into contemporary kitchens.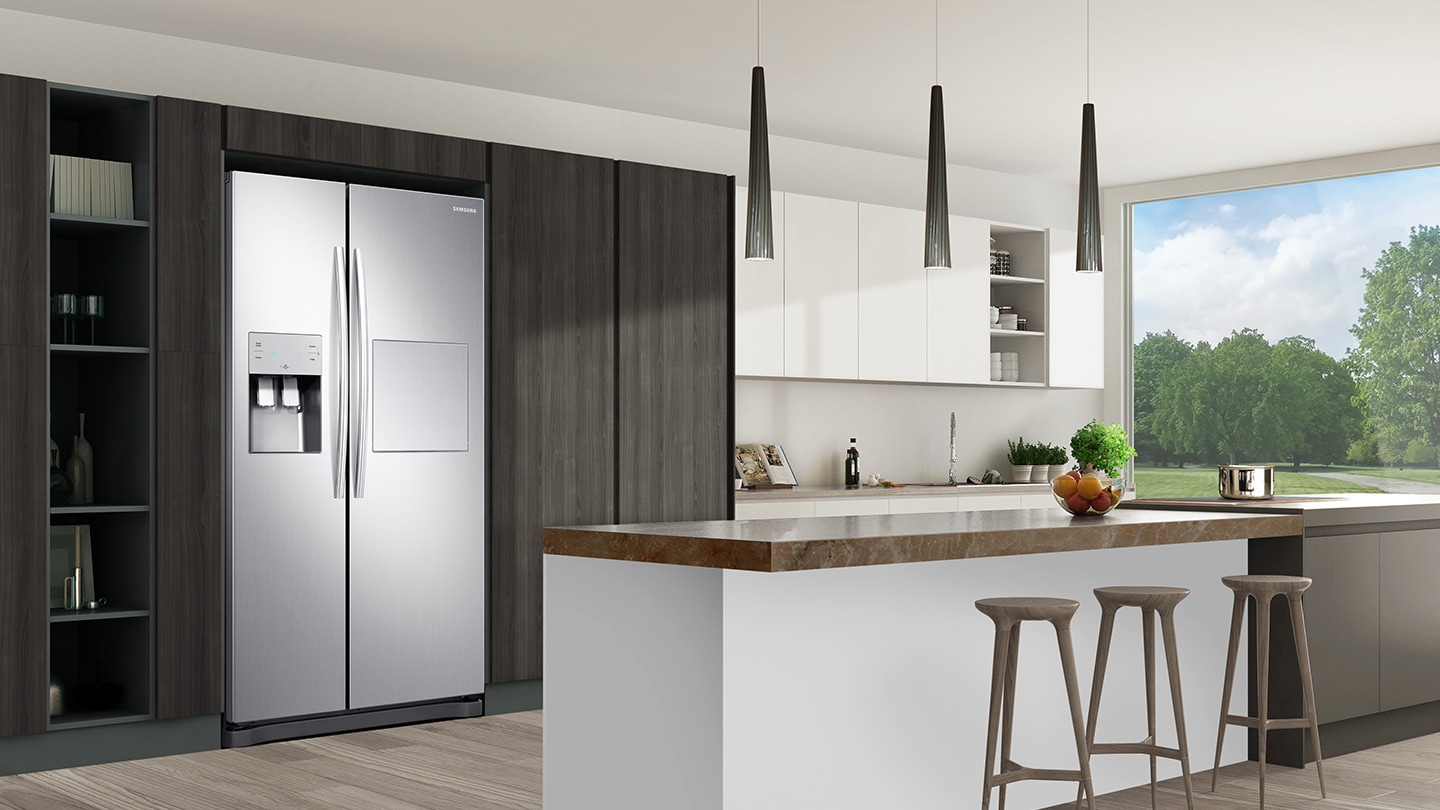 Digital Inverter Compressor: Silence, reliability and energy savings
The Samsung Digital Inverter compressor automatically offers 5 different positions allowing it to adapt its operation according to the humidity level and the use of the refrigerator.
It thus makes it possible to maintain a more stable temperature while reducing the noise and consumption of the appliance, thus extending the life of the refrigerator.
Integral ventilated refrigeration
Present on all Samsung refrigerators, ventilated cold guarantees a uniform temperature, prevents the formation of frost and thus allows better preservation of your food.
Multi-Flow cold distribution
This technology diffuses cool air through multiple openings so that the temperature is even and constant throughout the refrigerator.
Fresh air encompasses all food, which then stays fresher longer.

Drinks at your fingertips
With the Home Bar, keep your drinks close at hand and minimize the loss of cold air.
It is integrated into the refrigerator and does not have a handle.
Simply open the door with a push, it will drop down to give you access to your favorite drinks.
It can also be used as a support for pouring a drink.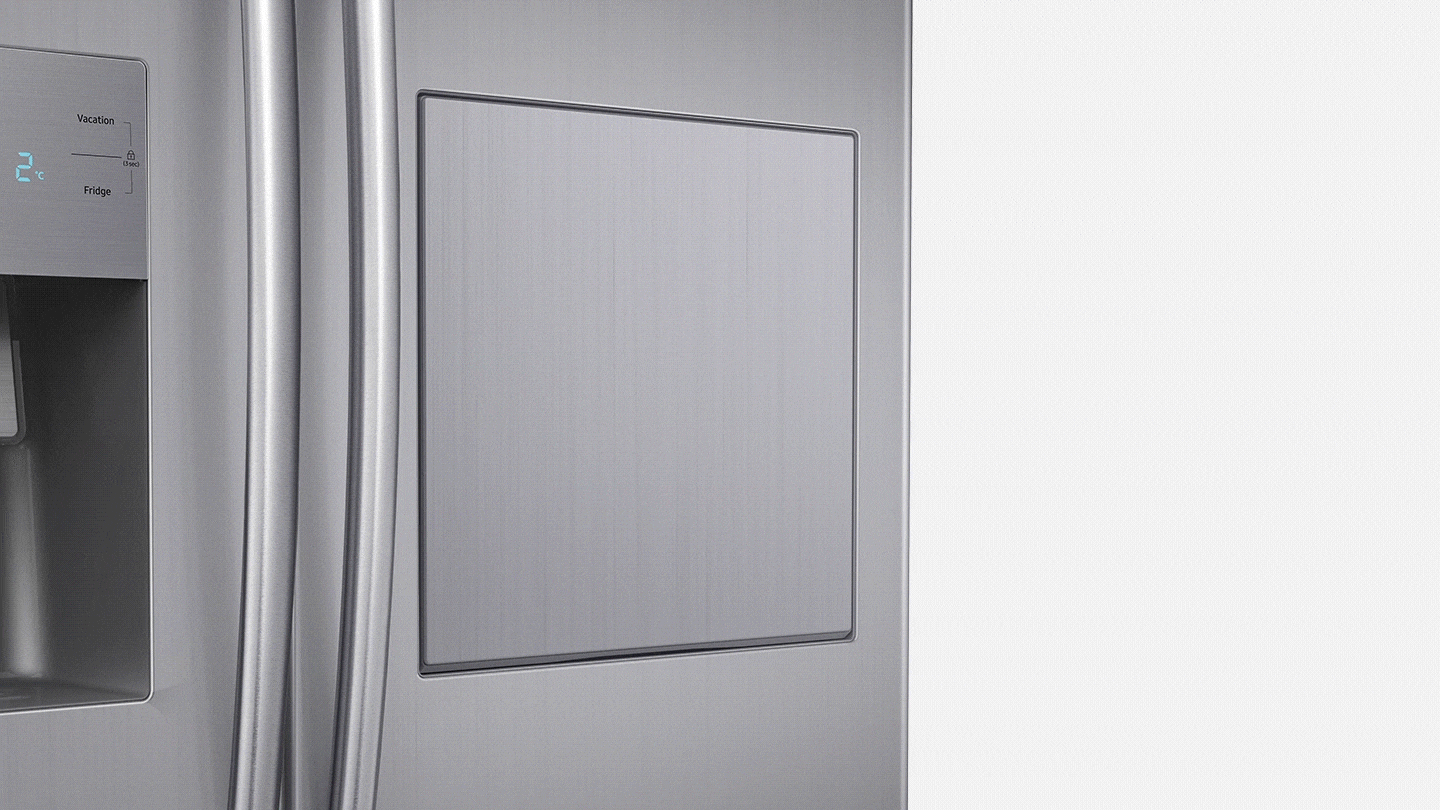 This function allows food to be frozen quickly.
When activated, a blast of very cold air is injected into the freezer, which quickly freezes foods like ice cream or ice cubes.
Net freezer capacity (liters): 144 ℓ

Net fridge capacity (liters): 357 ℓ

Type of refrigeration: Ventilated refrigeration
Energy efficiency class: A +
Specifications
Capacity
Gross total (liters): 551 ℓ

Gross freezer (liters): 192 ℓ

Gross refrigerator (liters): 359 ℓ

Total net (liters): 501 ℓ

Net freezer (liters): 144 ℓ

Net fridge (liters): 357 ℓ



Physical Specifications
Net width: 912 mm

Height: 1789 mm

Product Depth (handles included): 734 mm

Product Depth (Excluding Handles): 672 mm

Depth without door: 605 mm

Width with packaging: 974 mm

Weight: 106 kg

Height with packaging: 1907 mm

Depth with packaging: 776 mm

Net weight with packaging: 113 kg

Ventilated cold: Yes

Multi-Flow: Yes

Fast freezing function: Yes

Type of cooling: Fan cooled
Refrigerator Specifications
Number of shelves: 5

Creamery compartment: Yes

Number of door racks: 4

Egg tray: Yes

LED interior lighting: Ceiling light

Shelf finish: Tempered glass

Number of fruit & vegetable drawers: 2
Number of shelves: 3

4 Star freezer rating

Freezer position: Left

Freezer defrost: Automatic.

Number of door racks: 3

Ice Maker: Automatic

LED interior lighting: Ceiling light

Water filter: Yes / HAFEX

Number of drawers: 2
Audible door open alarm: Yes

Refrigerant: R-600a

Cyclopentane insulation: Yes

Autonomy (temperature rise time): 8 h

Compressor: Digital Inverter
External Display

Type of handles: Bar

Colour: Black

Type of dispenser: Ice, ice cubes and crushed ice

Door type with homebar
Energy efficiency class: A +

Sound level: 43 dBA

Climate class: SN, N, ST, T

Freezing capacity (kg / 24h:) 10 kg / 24hr

Energy consumption per year: 409 kWh / year

Vacation mode: Yes