Freezer Drawer Compartments

Digital Inverter Compressor
Fresh for twice longer* without freezing
Optimal Fresh zone
The new Samsung RB33N4020S8/GH features Optimal Fresh zone, that keeps your meat and fish fresh for twice longer* without ice freezing.
* Tested by Intertek with RB30N4180B1. Applies when set as MAX mode. Results may vary upon degree of freshness before storage, usage circumstances, etc.
Customizable to adapt to your needs
Optimal Fresh zone
Use it as Optimal Fresh zone to store meats and seafood fresher for twice as long* without freezing them, or simply slide the knob at the back of the compartment to change it back to the ordinary fridge, depending on your needs.
Optimal Fresh zone
Ordinary fridge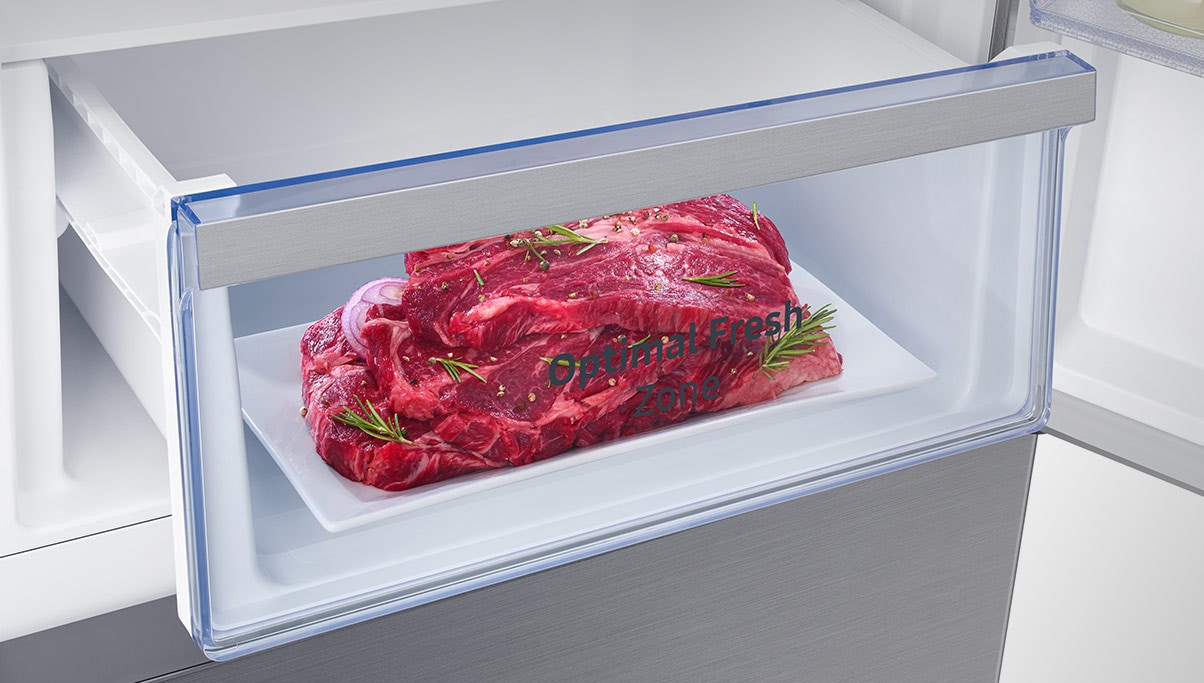 * Tested by Intertek with RB30N4180B1. Applies when set as MAX mode. Results may vary upon degree of freshness before storage, usage circumstances, etc.
Works smart, stays young, saves more
Digital Inverter
Digital Inverter compressor automatically adjusts its speed in response to cooling demand across 5 levels. So it uses less energy, minimizes noise and reduces wear and tear for longer-lasting performance. 21-year life span has been guaranteed by VDE, the authorized certification committee in Europe.
* VDE certification on the compressor only, not intended for the product guarantee. Actual lifespan may vary depending on the usage circumstances. Applicable to certified models only.
Clean air inside to preserve the flavor
Power Deodorizer
The Power Deodorizer is made of Activated Carbon, which filters the air inside the fridge to eliminate bad smells – keeping the air clean and fresh, and preserving the flavor of your food for longer.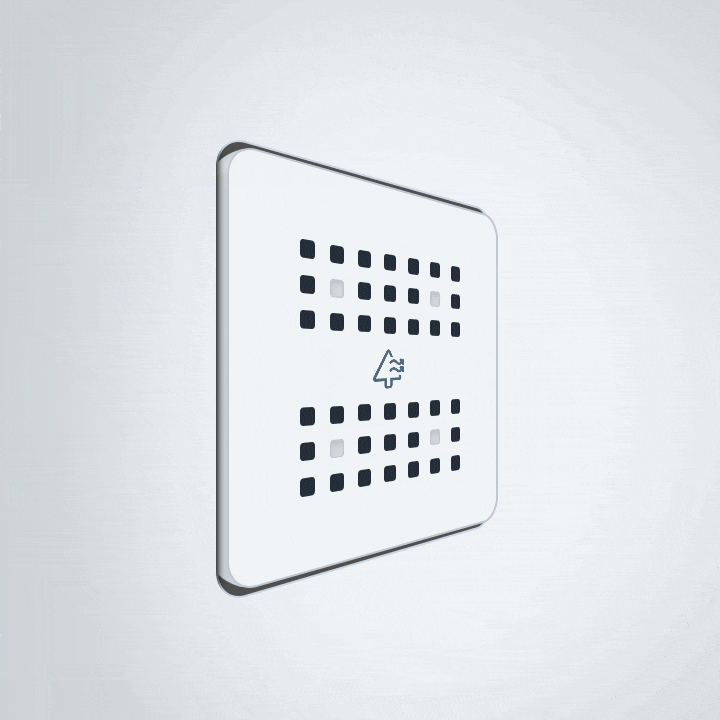 Bigger storage of meats, veggies and frozen foods
Optimal Fresh zone, crisper, and freezer
The RB33N4020S8 refrigerator has a large capacity Optimal Fresh zone to fit a whole chicken keeping it fresher longer, a big freezer to toss the ice bags in, and a big veggie box to store all of your fresh vegetables and fruit. So you can store more of what you use the most.
Evenly & optimally cools every corner
All-around Cooling
The All-around Cooling system cools the fridge evenly from corner to corner. Cold air is blown out through multiple vents on every shelf level, so it maintains a constant temperature and food stays fresher.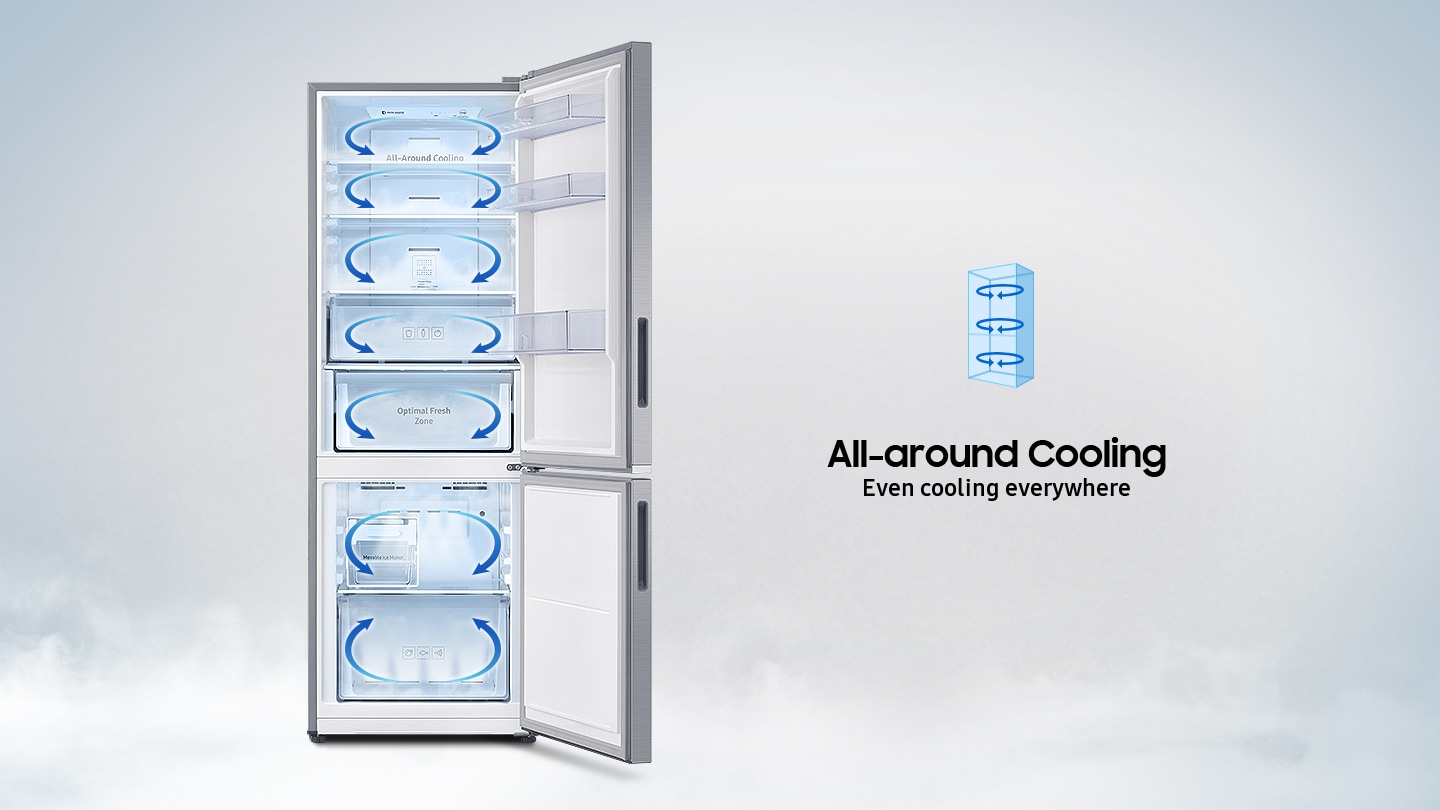 Contemporary design to enhance your kitchen
Flat design
The sleek design creates a clean and contemporary look that enhances your kitchen interior. The minimalist stainless steel finish and strikingly beautiful flat front introduce an added level of sophistication.
More inside, same outside
SpaceMax Technology™
Store all your food neatly and keep it fresher for longer with a huge space. SpaceMax Technology™ enables the walls to be much thinner using high-efficiency insulation. So it creates more room inside without increasing the external dimensions or compromising energy efficiency.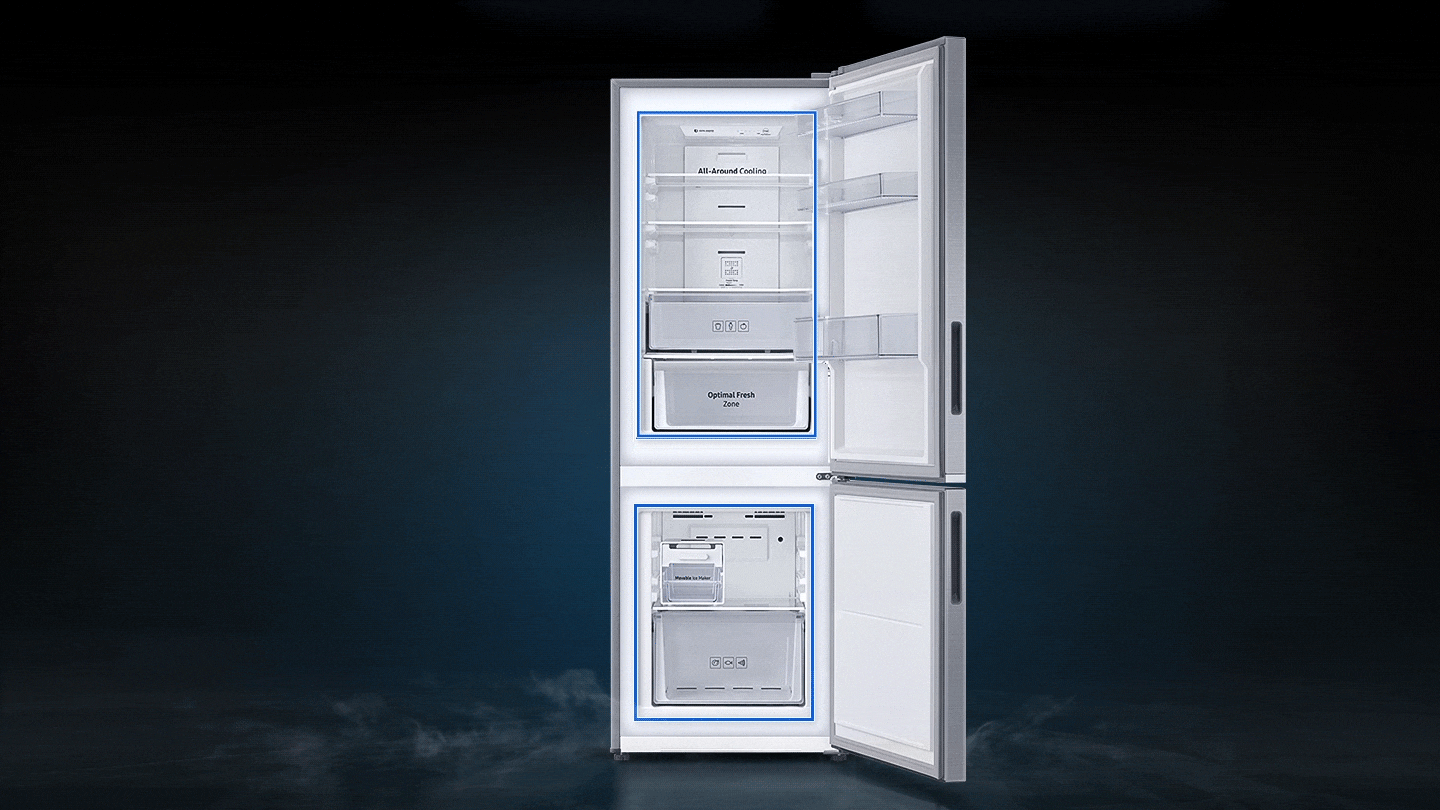 * The capacity is different for each model.
SPECIFICATIONS
Gross Dimensions: 629mm (W) × 704mm (D) × 1665mm (H)

Digital Inverter Compressor

All-around Cooling System

Optimal Fresh Zone – preserves freshness of foods for twice as long without freezing.