Digital Inverter Technology
More energy saving
Less noise
And performance more durable than ever. Digital Inverter technology uses a planetary gear set to quietly power the motor up to 5 times * but consumes up to 40% less energy ** compared to conventional motors.
It is also very durable.
* Based on internal testing of Digital Inverter technology motor (25 ° C, motor dynamometer) ** Based on internal test of WA5000R motorized inverter vs. conventional motor WA5700J with normal washing program (15 ± 2 ° C, fabric weight 3 kg)
* Based on internal testing of Digital Inverter technology motor (25 ° C, motor dynamometer) ** Based on internal test of WA5000R motorized inverter vs. conventional motor WA5700J with normal washing program (15 ±
2 ° C, fabric weight 3 kg)
Washes clothes gently
Wobble Technology
No tangles, mess and damage problems with Wobble technology that preserves the fabric during washing. The Wobble Wave Maker generates a powerful, multi-directional water stream that prevents the fabric from tangling and knots. Moreover The technology also enhances the washing power that will make your clothes smoother and more thoroughly clean.
Dissolve the detergent completely
Magic Dispenser
Wash clothes without worrying about residual detergent residue.The Magic Dispenser creates a powerful vortex that dissolves both detergent and detergent thoroughly before starting the wash. Minimize the chance of detergent residue remaining on your clothes. *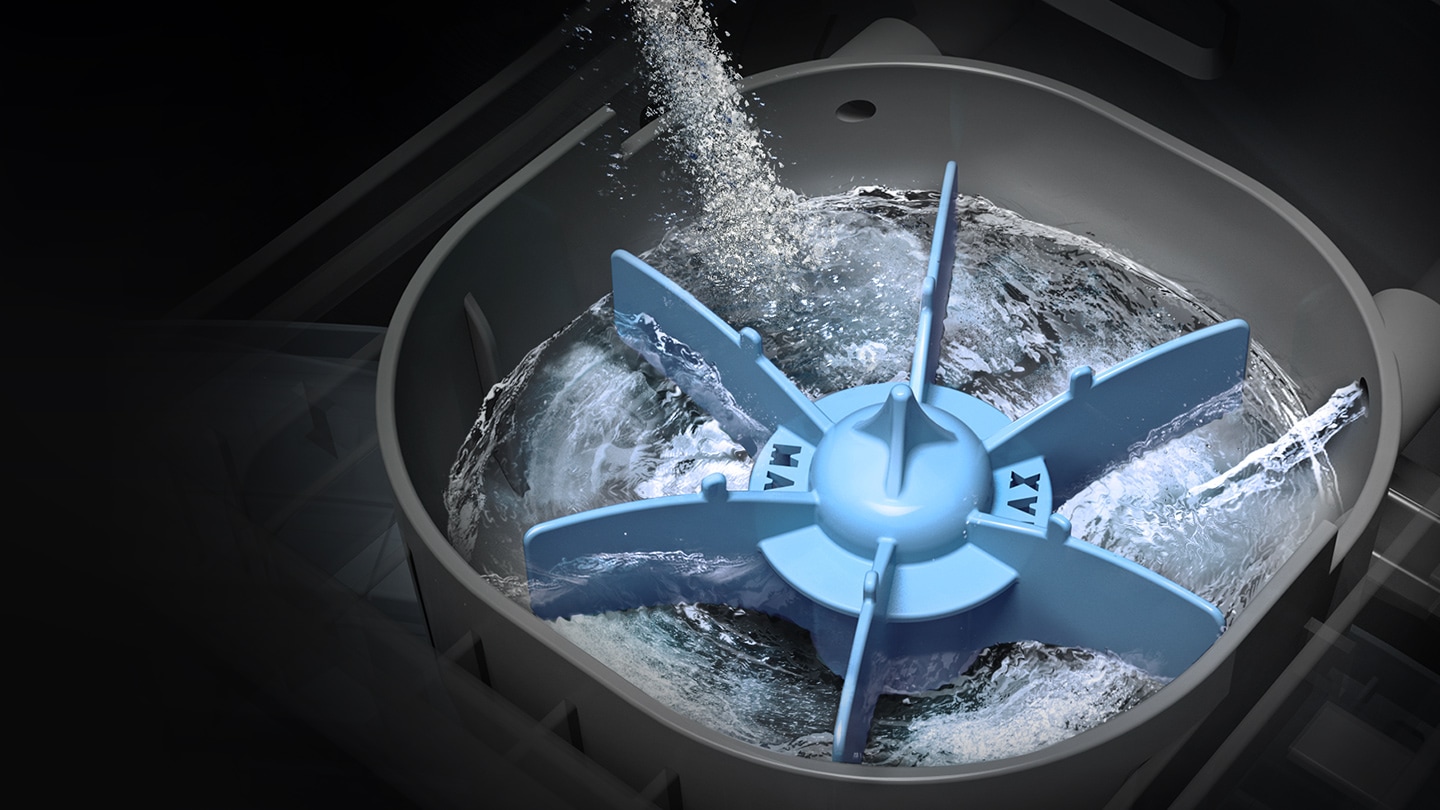 * Compared to conventional Samsung washing machines without Magic Dispenser.

Deep cleaning
Intensive Wash
Even if it gets dirty, it washes flawlessly.The Intensive Wash can be used with any wash program * to remove stubborn stains such as blood, tea, wine, make-up and grass. Allows water to penetrate the fabric Makes removing stains more effectively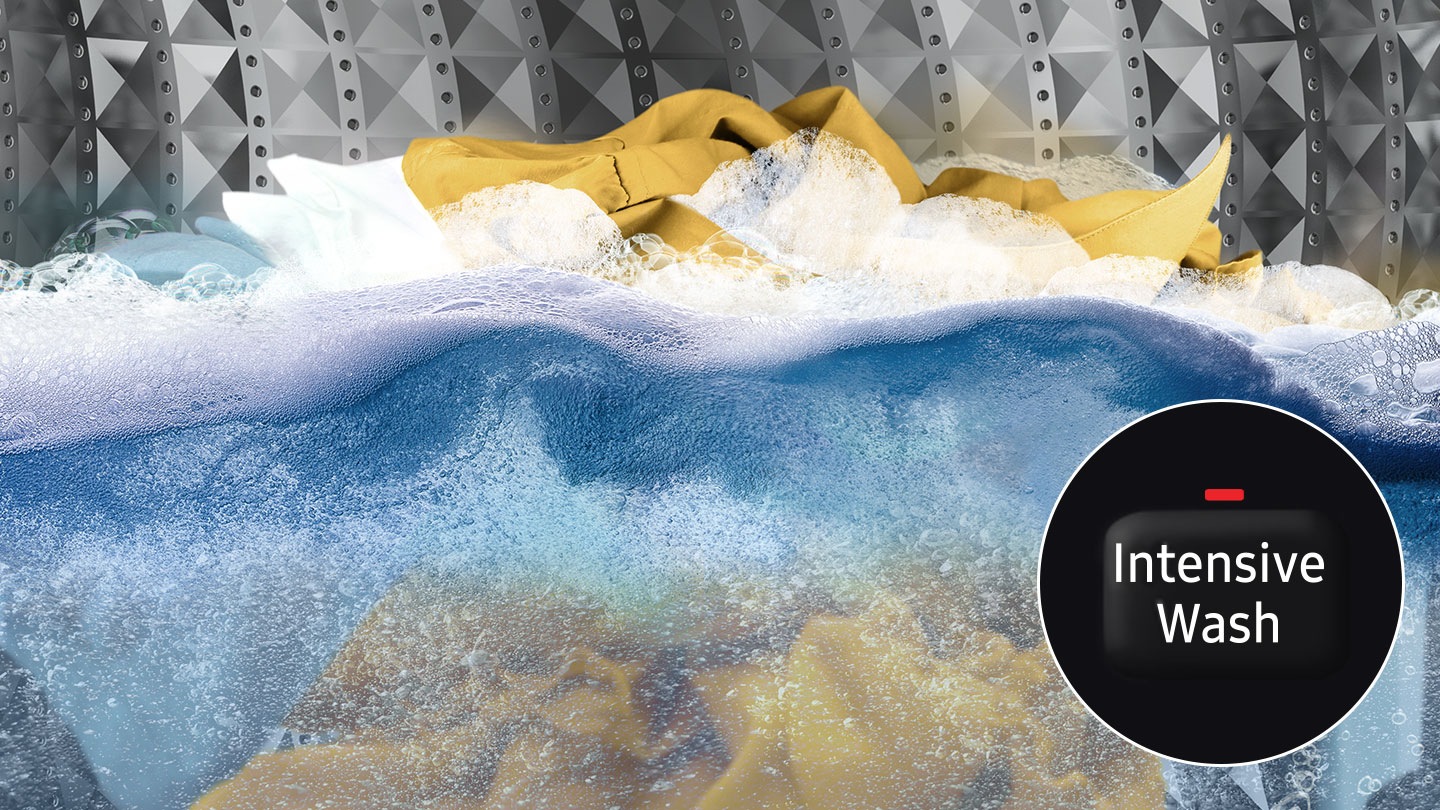 Long-lasting fragrance
Deep Softener
You can be sure that your fabric will smell better automatically. The Deep Softener option makes the fabric softener most effective with an optimized washing algorithm. Make your fabric more fragrant with the same amount of fabric softener. This allows you to save more by not adding more fabric softener or adding more washing program.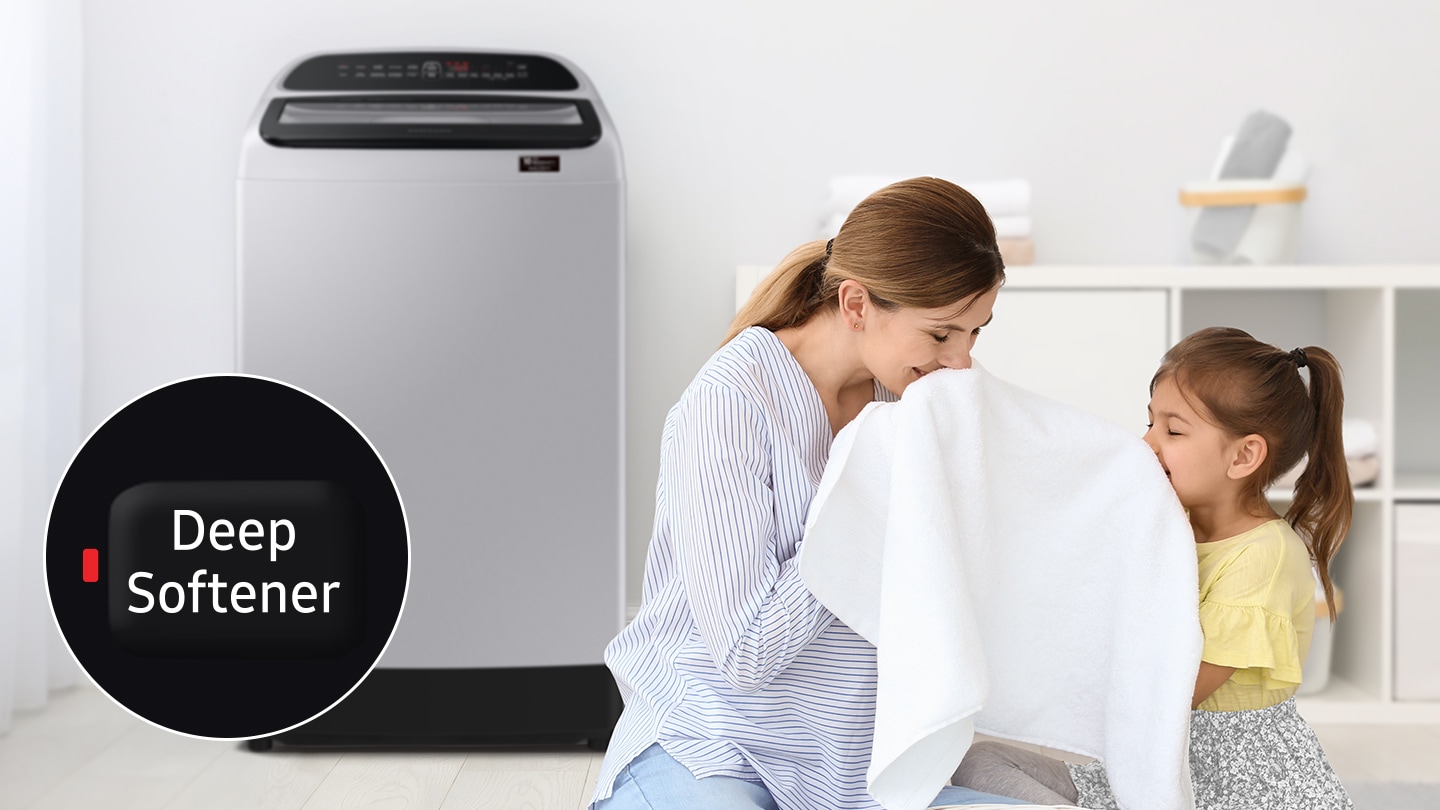 * Based on Intertek data, wash with a regular washing program with a choice of deep fabric softener, showing a 20% more fabric softener absorption rate and softness level compared to the fabric softener. Wash with a normal washing program only. (Tested with Samsung WA6000T model, fabric weight 5 kg)

Powerful filtration system
Magic Filter
Prevent your black and white fabric from being covered in stubborn stains while preventing your drains from clogging up.Magic Filter can trap lint, lint and debris from the laundry. Makes your cloth always look clean without spots. Plus, it's easy to clean, so the Magic Filter will always work efficiently.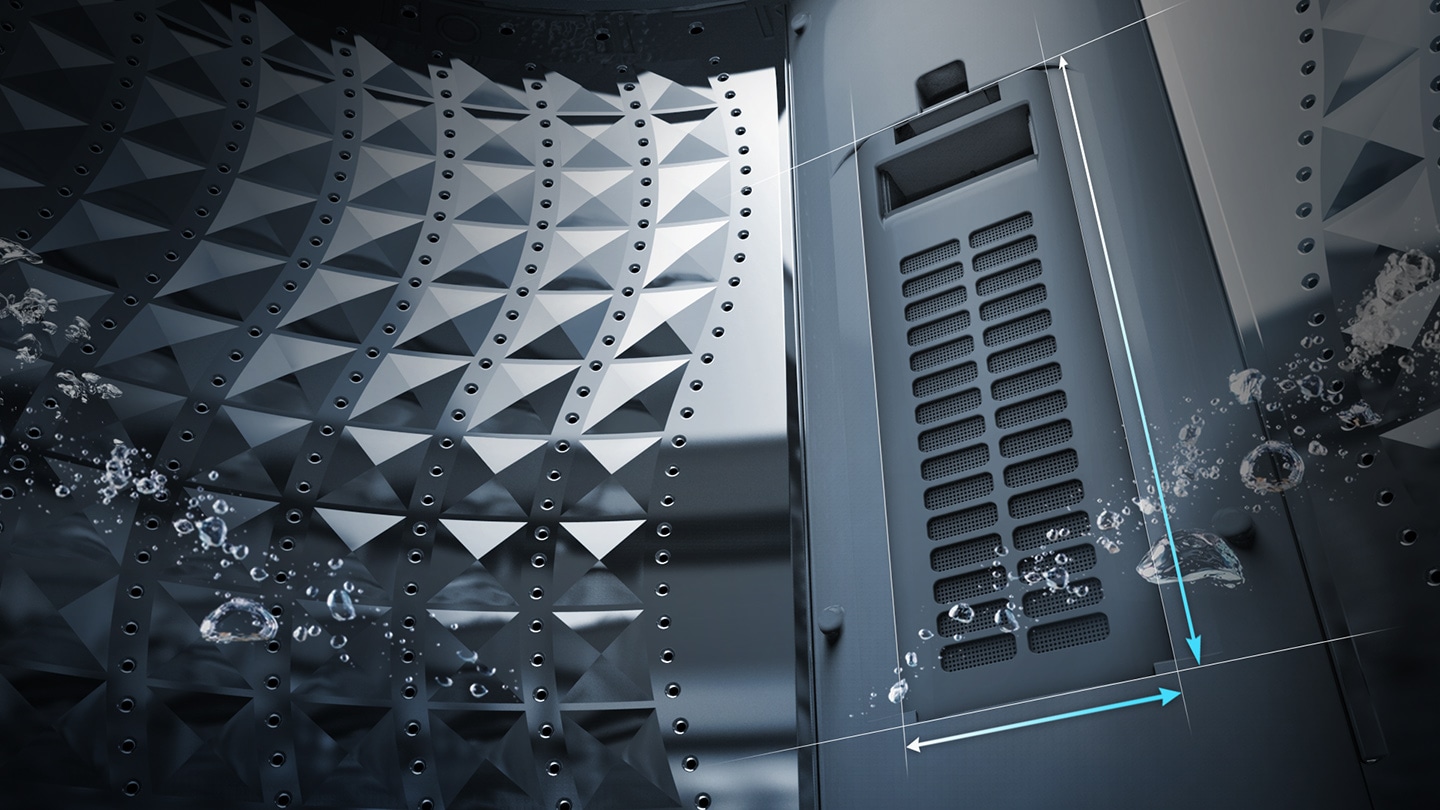 Keep the drum clean at all times.
Eco Tub Clean
Keep your top load washing machine fresh and hygienic at all times. It also saves energy and money in your pocket. The Eco Tub Clean program removes any dirt build-up in the tub and around the rim of the tub without the need for expensive cleaning agents. It will automatically notify you when cleaning is needed *
* Notifications after every 20 washes with a flashing light icon on the control panel.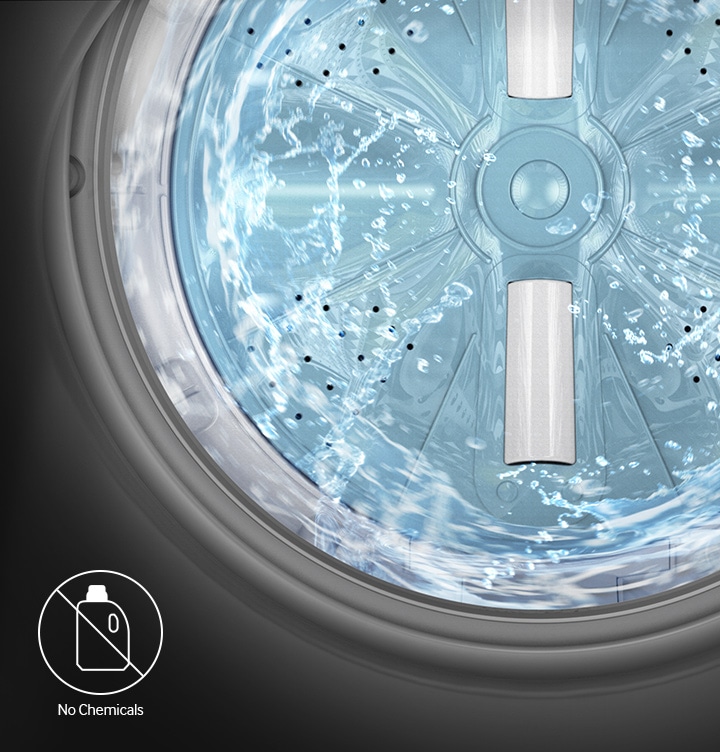 Easy-to-use lid
Soft Closing Door
Do not be shocked by the loud bang again! The Soft Closing Door can be closed safely, softly and quietly thanks to a damper that can automatically slow down the closing speed. The tempered glass window allows you to look inside the drum without lifting the lid. And is also strong and durable, which helps prevent cracking or being scratched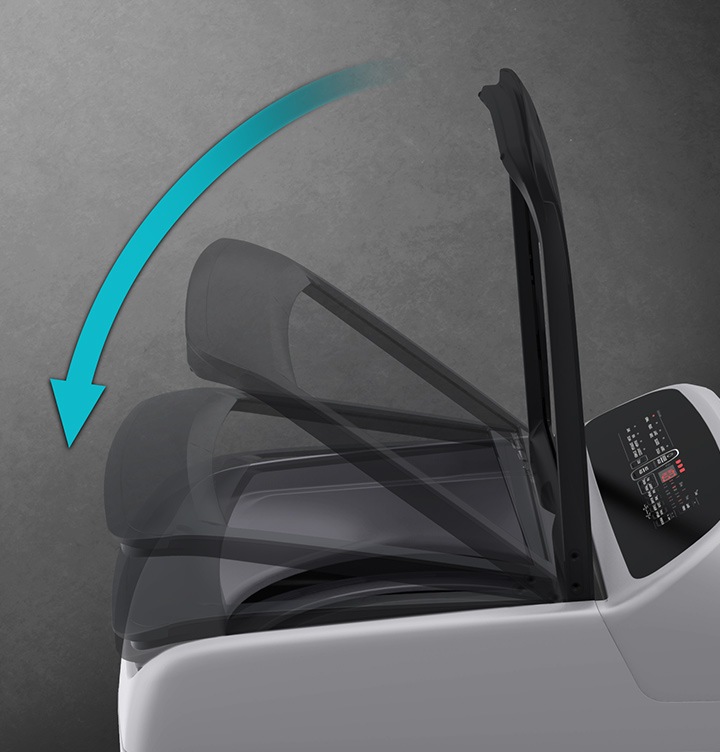 Solve various problems easily
Smart Check
Reduce costs and inconvenience when your washing machine is broken. Smart Check is an automatic error detection system that you can use anytime, anywhere via a smartphone app. Diagnose any problem and provide quick and easy suggestions on how to resolve them. Which saves you both time and money on repairs **
* Compatible with Android and iOS devices. A Wi-Fi connection is required. ** Service may be required from time to time. Which will incur additional costs
Soft to your fabric
Diamond Drum
Protect your clothes from being damaged. Diamond Drum's unique "soft curl" design can wash clothes with great efficiency while preserving clothes together. It features a razor-sharp edge that is gentle on your clothes. And a small spray hole, which prevents the fabric from being damaged.
Easier and safer control
Rear Control
Use your washing machine easily and effortlessly without worrying about water splashing onto the digital control panel.The tilted Rear Control panel lets you easily see the controls, even if they're miles away. The panels are also protected from splashing water.
16.0 kg

Washing Capacity (kg)

2nd Diamond

Drum type

Wobble

Pulsator

637 x 1095 x 701 mm

Net Dimension (WxHxD)
Washing Capacity

Washing Capacity (kg)

16.0 kg

Design

Body color

White

Door

Whtie

Panel Display

Inlay Panel

Feature

Air Turbo

Yes

Child Lock

Yes

Deep Softner

Yes

Delay End

Yes

Door Lock

Yes

Drum type

2nd Diamond

Intensive Wash

Yes

Magic Dispenser

Yes

Magic Filter

Yes

Motor

DIT

Pulsator

Wobble

Spin Speed

700 rpm

Smart Check

Yes

Soft Close Lid

Yes

Tempered Glass Window

Yes

Water Level

5 Levels

Cycle

Aqua Preserve

Yes

Bedding

Yes

Delicates

Yes

Eco Tub Clean

Yes

Jeans

Yes

Normal

Yes

Number of Cycle

9

Option List

Delay End, Deep Softner, Water Level, Wash Time, Rinse Times, Spin Time, Intensive Wash, Air Turbo

Quick Wash

Yes

Rinse + Spin

Yes

Super Clean

Yes

Physical specification

Net Dimension (WxHxD)

637 x 1095 x 701 mm

Net Weight

44.0 kg