Real 4K UHD.
Astounding suggestiveness
LG UHD TV exceeds expectations every time.
Enjoy realistic images and vivid colors with four times the pixel accuracy of Full HD.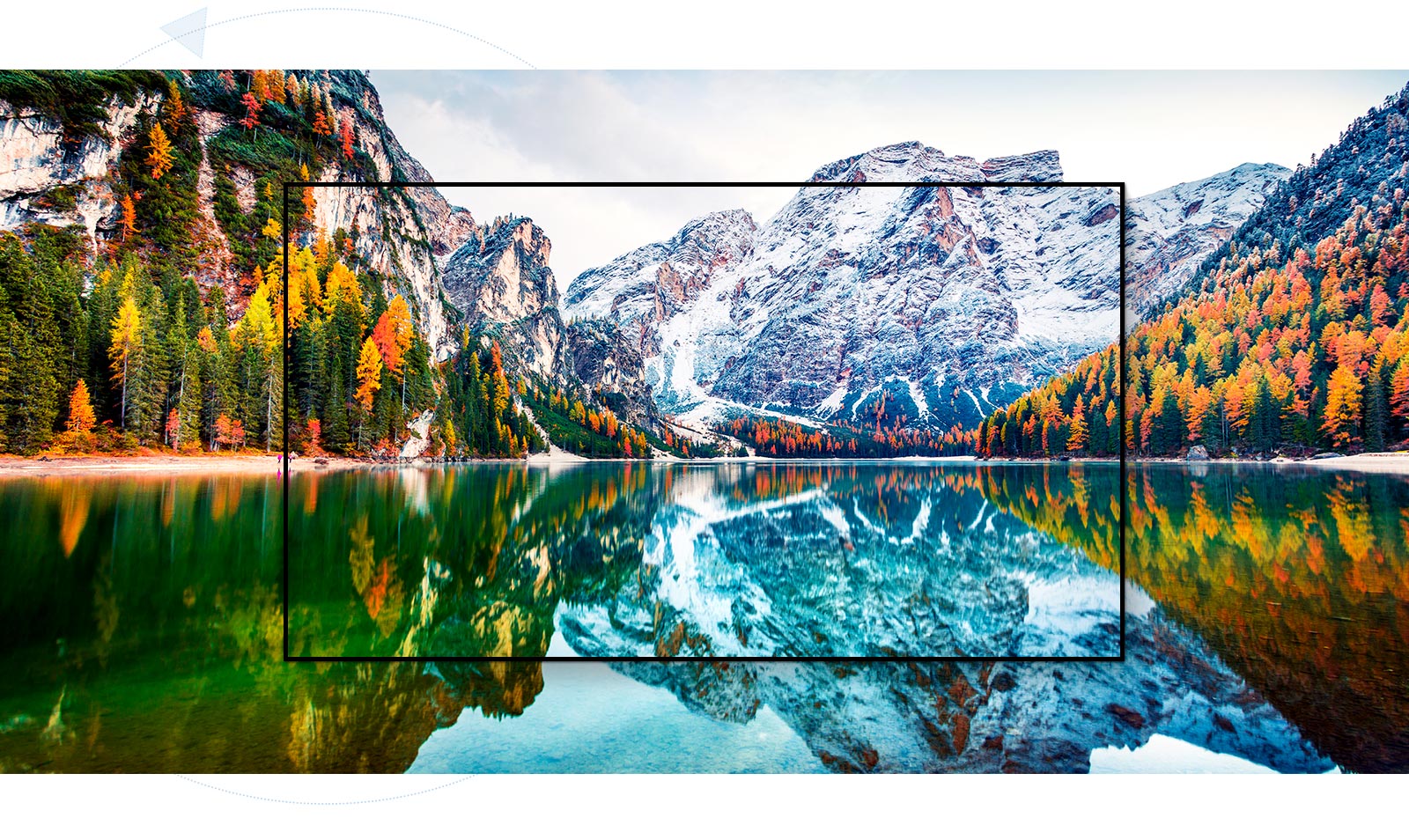 Functionality worthy of the most popular movies.
Set up a home cinema.
FILMMAKER MODE™ and HDR will allow you to get even more involved in the content you are watching.
Connect to your favorite streaming platforms to access your favorite content.
Entertainment
A hub for all your favorite things.
Access to the app on Apple TV and Netflix.
Choose from the latest movies, TV shows, documentaries and live matches, all in one place.
*Netflix streaming subscription required.
**Apple, the Apple logo and Apple TV are trademarks of Apple Inc., registered in the US and other countries.
***Supported service may vary by country.
FILMMAKER MODE™
The director's vision came to life.
FILMMAKER MODE™ disables motion smoothing but preserves the original aspect ratio, colors and frame rate.
In this way, the director's vision is accurately conveyed, so you will see the film as it was created.
Active HDR
Everything has been perfected down to the finest details.
LG UHD TV uses Active HDR technology for vivid colors and accurate details.
Many HDR formats are supported, including HDR10 and HLG, so you can enjoy your favorite movies in their original quality.
Immerse yourself in the action.
Game Optimizer and low input lag will allow you to play faster and more passionately.
Game optimizer
Quick and easy game setup.
Control all your settings in one place with modes optimized for different game genres – FPS, RPG and RTS.
Control contrast with black and white stabilization for better visibility.
HGiG
Immerse yourself in the game.
HGiG determines the TV's performance and picture quality, then matches the HDR images for an immersive HDR gaming experience.
Low input lag
Perfect handling with no lag
LG UHD TV ensures that users will be able to control games instantly – without lag.
Exciting match experience
You will feel like you are in a stadium.
With Bluetooth Surround Ready technology, you'll feel as if you're right on the edge of the stadium watching the game.
And sports-related alerts will always let you know when your favorite teams are playing.
Sports related warnings
Never miss a match for your team.
The Sports Alerts feature will provide you with notifications before, during and after the match.
You will never have to worry about missing important matches of your favorite teams, even if you are watching other content.
*Usage may vary by country.
Ready for Bluetooth surround sound
Home is much more comfortable.
Easily connect Bluetooth speakers and enjoy surround sound without wires.
The sound of the action is richer and more realistic, so you can feel the spectacular atmosphere of the match in your living room.
*Speakers sold separately.
Add elegance to the interior
UHD will really be a great accent in your interior.
Thin screen and frame, aesthetic design – such a TV will add elegance to any interior.
Picture and sound are even better.
The processor removes image noise and generates brighter colors and higher contrast.
Low-resolution images are upscaled and reproduced close to 4K quality.
In addition, it knows when, where and how to enhance the sound for rich virtual surround sound and an immersive viewing experience like being in a cinema.
4K resolution upscaling
See everything in 4K resolution.
LG UHD TV transforms 2K content into the most realistic 4K picture, improving fine details, resolution and color.
Text and images become much clearer, with reduced noise and improved sharpness.
AI brightness control
Great Features – Better View
The light sensor measures the ambient light, after which the processor subtly adjusts the tonal rendering for optimal screen brightness.
Intelligent dimming control and dot compensation algorithm improve contrast, making dark images look better.
And HDR content is improved by adjusting luminance, so darker scenes become more contrasty, more detailed, and color resolution is improved.
AI Sound
The sound every genre deserves
Based on over 17 million audio data points, the processor identifies voices, effects and frequencies to optimize the sound according to the audio genre, ensuring an impressively immersive audio experience.
Think you know what "smart" means?




Think again.
LG ThinQ will provide a more impressive TV viewing experience.
Choose your favorite voice assistant and control your TV with your voice – a brand new, more user-friendly home screen gives you more control options.
Magic Remote
Works almost like a magic wand.
The new design of the Magic Remote is more like a magic wand – it's ergonomic, easy to hold, and uses a pointing and scrolling system to make searching faster.
Built-in AI technology makes accessing services easier, while hotkeys linked to major content providers give you quick access to your favorite channels.
*Magic Remote availability varies by country.
Voice commands
Convenient control center.
LG ThinQ enables teams to control the home IoT ecosystem using natural voice recognition technology*.
*Supported menus and applications may vary by country.
**The released product may display different menus.
***Voice command availability may vary by product and country.
*This product does not come with an antenna or cables to connect the antenna or external devices.
Product Information Sheet
in accordance with Regulation EU_2019_2013
 Specifications
General product parameters
(Declared) Value
Unit
 

 

1

Supplier's name or trade mark

LG Electronics

 

Supplier's address

LG Electronics European Shared Services Center B.V., Krijgsman 1, 1186 DM Amstelveen, Netherlands

2

Model identifier

43UP77003LB

3

Energy efficiency class for standard Dynamic Range (SDR)

G

4

On mode power demand for Standard Dynamic Range (SDR)

64.8

W

5

Energy efficiency class (HDR)

G

6

On mode power demand in High Dynamic Range (HDR) mode

83.0

W

7

Off mode, power demand

N/A

W

8

Standby mode power demand

0.5

W

9

Networked standby mode power demand

2.0

W

10

Electronic display category

Television

11

Size ratio (X : Y)

16:9

–

12

Screen resolution (H X V)

3840X2160

–

13

Screen diagonal (Cm)

108.0

cm

14

Screen diagonal (inch)

43

inches

15

Visible screen area

49.8

dm2

16

Panel technology used

LED LCD

17

Automatic Brightness Control (ABC) available

YES

Yes/No

18

Voice recognition sensor available

No

Yes/No

19

Room presence sensor available

No

Yes/No

20

Image refresh frequency rate

60

Hz

21

Minimum guaranteed availability of software and firmware updates(from the date of end of the placement on the market)

8

Years

22

Minimum guaranteed availability of spare parts

(from the date of end of the placement on the market)

8

Years

23

Minimum guaranteed product support

8

Years

 

Minimum duration of the general guarantee offered by the supplier

 

2(or 1)

 

Years

24

Power supply type

Internal

25.1)

External power supply

(non standardized and included in the product box), Description

N/A
25.2)

External power supply (non standardized and included in the

product box), Input voltage

N/A

V

25.3)

External power supply (non standardized and included in the product box), Output voltage

N/A

V

26.1)

External standardised power supply (or suitable one if not

included in the product box), Supported standard name or list

N/A

26.2)

External standardised power supply (or suitable one if not

included in the product box), Required output voltage

N/A

V

 

26.3)

 

External standardised power supply (or suitable one if not included in the product box), Required delivered current (minimum)

 

N/A

 

A

26.4)

External standardised power supply (or suitable one if not

included in the product box), Required current frequency

N/A

Hz